Six agrarian reform beneficiaries organizations (ARBOs) from remote villages in the province of Leyte are being considered as among the potential recipients of a package of support services from the Department of Agrarian Reform (DAR) which aims to develop the rice and corn as well as coconut producing areas in the country.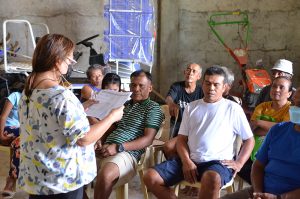 Melecia Ong, Chief of the Program Beneficiaries Development Division (PBDD) at the DAR Regional Office, disclosed that P 16 billion from the agrarian reform fund (ARF) is earmarked for the Sustainable and Resilient Agrarian Reform Communities (SuRe ARCs) program to develop areas under major crops in support to the food security program of the Marcos administration.
In Eastern Visayas, Ong shared, we recommended areas planted to rice and corn, and coconut, which are the dominant crops here.
Last week, staff from DAR Central Office's Bureau of Agrarian Reform Beneficiaries Development (BARBD) validated the rice producing Canmarating, Odiongan, Pagsang-an, Sulpa Irrigators Association (COPS-IA) in Abuyog; Catoogan, Ulhay, Lacdas Irrigators Association, Inc. (CUL-IA, Inc.), with members from Abuyog and Javier; Sanulmaco Irrigators Association, Inc. in Javier; and the coconut-based Brgy. Agutayan Farmers Association in Hilongos; Enage Agrarian Reform Farmer Beneficiaries Association (EARFBA) and the Brgy. Petrollo Farmers Multi-Purpose Cooperative (BPFMPC), both in Calubian.
The said ARBOs were validated based on the organization's operation management, program engagement, governance, farm mechanization, physical infrastructure, and support from local partners and other agencies.
Ong further disclosed that those who will qualify will receive a package of support services which include farm inputs, machineries, trainings, and infrastructure projects, in line with Agrarian Reform Secretary Conrado Estrella III's nine primary goals which include farm mechanization and capacitating the ARBOs.
She added that DAR's SuRe ARCs program is seen to boost the agriculture sector which eventually will bring an increased income to the farmers particularly the agrarian reform beneficiaries (ARBs) which will benefit not only the recipient ARBOs, but the entire community as well.
Ong also stressed that this undertaking will likewise contribute to End Local Communist Armed Conflict (ELCAC), a whole-of-nation approach to address insurgency in the country.
(JOSE ALSMITH L. SORIA/PR)