TACLOBAN CITY – It was an early Christmas gift for the members of the Tour Guide, and Boat Operators for River Protection and Environmental Development Organization (Torpedo) after they received 10 motorboat engines from the Tourism Promotion Board (TPB), an attached agency of the Department of Tourism.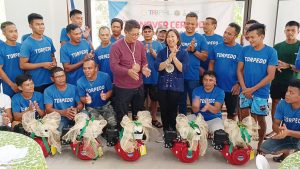 Torpedo members are boatmen, point men, and tour guides who are working at the extreme boat rides at the Ulot River in Paranas town, Samar.
Just like other tourist destinations, the extreme boat ride at the Ulot River was also suspended due to the coronavirus (COVID-19) pandemic which resulted for Torpedo members to lose income.
"We are still here despite of the pandemic. We are here to give our services to the tourists, for them to enjoy and for us to earn," Eugene Igdameo, Torpedo president said.
"That is why, we are thankful to the TPB. We have been waiting for this for so long. This will help us earn more as tourists start going back to visiting destinations," he added.
TPB head for the domestic promotions department Cesar Villanueva said that during their 2022 visit to the area, they learned that 60 percent of the Torpedo income goes to the owner of the 22 boats that they rent for the cruise rides.
Learning about this predicament of the Torpedo members, Villanueva said that he immediately made a decision to help them.
"There was a bit of delay because of the procurement process, but now the engine is here, I hope that you will use this properly," Villanueva told to association members.
The turnover was also graced by Paranas Mayor Eunice Babalcon, Department of Tourism Regional Director Karina Rosa Tiopes, and Samar Tourism Officer Marvin Pecson, representing Governor Sharee Ann Tan.
Prior to the donation of the engines, a private company Taft Hydro Energy Corporation had already donated a boat to the organization August last year, according to Tiopes.
Torpedo members are one of the people's organizations in Samar province that manages eco-tourism sites in their respective localities.
(ROEL T. AMAZONA)