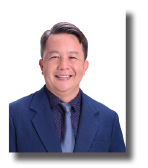 The situation is not that simple, it's dreadful . The national debt now servicing or payment is at Php. 1,630 Trillion. Senator Pimentel sounded the alarm. Such statement coming from a Senator and BAR Topnotcher (Number 1 1990 BAR Exam with a score of 89.85) and BS Science Mathematics graduate.
Dissecting the thoughts of Pimentel via an Inquirer Story which came yesterday , Pimentel pointed out that Ang ibig sabihin nito, P1.6 trillion ang ating pagsisikapan, pagpapawisan, pagtatrabahuhan plus uutangin din para lang makabayad tayo ng utang," Pimentel said in a statement on Sunday.(What this means is that we will have to strive, work hard, and sweat for the 1eP1.6 trillion, plus we will borrow just to pay off the debt.)This huge cost of debt servicing diverts critical funds that should be used to augment social and health expenditures.Pimentel then explained that of the P1.630 trillion, P1.019 trillion will go to principal amortization and P582.32 billion to interest payment.Pimentel also noted that the government's outstanding debt has already reached P13.021 trillion as of end-August and may reach P14.63 trillion by end of 2023."Ang bawat isa sa 109 milyong Pilipino ngayon ay may utang ng P119,458 (each of the 109 million Filipinos today owes P119,458)," Pimentel said.
The sad reality of the Pandemic is not just it hammers us with medical and public safety problems, sadly the economic costs are staggering and long-lasting. It is even more fatal to the economy. Long after the virus became familiar and treatable by the body auto immune , it became another ,malady for the nation that will be affected by the debt snatchers that would deny its people social services because it has to pay its debt.
Yet, another sad reality is that these expenses incurred from the debt money are tainted with corruption . The Pharmally scandal , DepEd Pricey Laptop largely unsettled and laughingly unpunished the people who had obviously and surely got a windfall of cash unimaginable to our salarymen and simple folks. Each time our country pays debts and divert social expenditure to debt servicing it ends up actually paying corrupted funds enjoyed by the players of procurement violations.
In conclusion, we are going to suffer and they the perpetrators have to enjoy unimaginable comfort. Life seems so unfair at this juncture, but that is how the cookie crumbles.