Filing until Oct. 8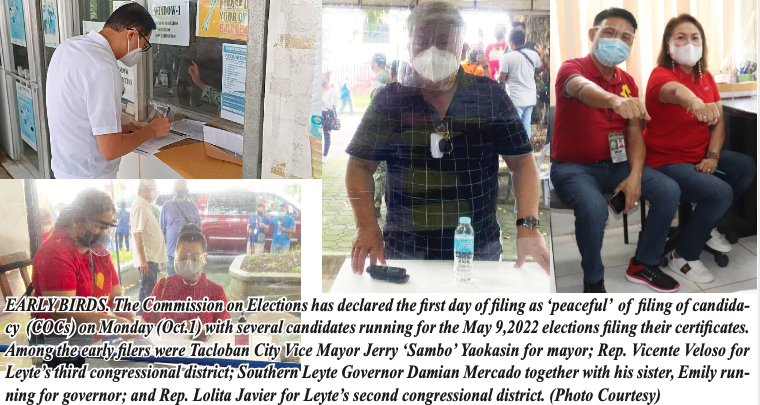 TACLOBAN CITY- The first day of the filing of the certificates of candidacy (COCs) across the region was declared 'peaceful' by the Commission on Elections (Comelec).
Lawyer Felicisimo Embalsado, assistant Comelec regional director, said that their office has not received any feedbacks from their local offices of any untoward incident related to the first of the one-week filing of the COCs for those running in next year's elections.
"So far, we have not received any information of any untoward incident during the first day of the COC filing here in the region," he said.
Embalsado said that aside from ensuring peaceful and orderly manner during the proceeding, marshals were also provided inside the polling offices to see to it that all the mandatory health protocols are observed by the candidates who are filing their COCs.
They are to use face mask and face shield as well observe social distancing.
"As candidates, we expect that they will be the first ones to strictly observe all the mandatory health protocols and we have police marshals to see that health protocols are being observed," Embalsado said.
The Comelec official also said that prospective candidates who are in quarantine or isolation, they can still file their COCs through an authorized representatives carrying a special power of attorney (SPA).
Next year's polls will also see the elections of two congressional representatives in Southern Leyte for the first time  with incumbent congressman, Roger Mercado, set to file his COC for the province' first district.
Several candidates have filed their COCs during the first day of the filing which is to end on October 8.
Among them was outgoing Tacloban city vice mayor Jerry Yaokasin who is to challenge reelectionist Mayor Alfred Romualdez who is yet to file his COCs.
Reelectionist Reps. Lolita Javier (NP) and Vicente Veloso (NPC) also filed their COCs for Leyte's 2nd and 3rd congressional districts respectively.
Also, Southern Leyte Gov. Damian Mercado also filed his COC together with his sister Emily as his running mate under the PDP-Laban.
Embalsado said that they see more candidates filing their COCs on Oct.8, the last day of filing.
"That's usually happens," he said.
The country is to hold a general balloting on May 9, 2022 which include the elections of President and Vice President.