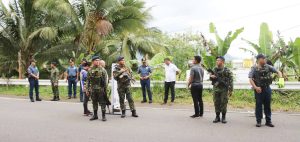 TACLOBAN CITY – The Philippine National Police (PNP) has deployed over 11,000 police personnel across the region to ensure a safe, secure, and honest Barangay and Sangguniang Kabataan elections this October 30.
As part of security measures, the PNP together with the Commission on Elections (Comelec) in the region established checkpoints in very town and city across the region.
A ceremonial activity was held on Monday (August 28) at the San Juanico Bridge, coinciding with the first day of the filing of certificates of candidacy for those running in the village polls.
The said activity was attended by Comelec Regional Director lawyer Jose Nick Mendros and B/Gen. Vincent Calanoga, the police regional director.
Calanoga asked the public for understanding when they are in the checkpoint and extend their cooperation with the law enforcers manning these checkpoints, saying they could help ensure a peaceful and orderly conduct of barangay and SK balloting.
For his part, Mendros reminded law enforcement personnel manning the checkpoints that they are only allowed to do "plain sight" inspection unless there is a valid ground for them to order that the vehicle be opened.
Mendros also visited the filing of CoCs of candidates in the city which is being held at the Tacloban City Convention Center.
He reminded the candidates not to wait for the Sept.2 deadline saying there would be no extension for the filing of the CoCs. (ROEL T. AMAZONA)