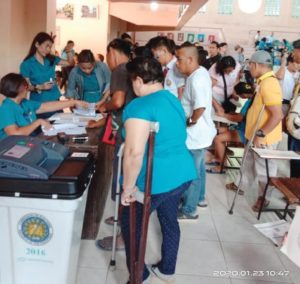 Part of poll body's moves to address PWDs concerns
TACLOBAN CITY- Ketherell Mate is excited that she will be exercising her right to vote for the first time.
But the 18-year old Mate is not your regular prospective voter. She is a deaf mute.
The Grade 9 student at the Leyte National High School (LNHS) was among the 150 persons with disabilities from this city that participated a simulation exercises during the voting process conducted by the Commission on Elections (Comelec) on Thursday at the school gym of LNHS, this city.
"Thank you to the Comelec for coming up with this activity. And I will surely exercise my right to vote in next elections," Mate said through her interpreter.
If ever, Mate will be exercising her right of suffrage during a presidential elections two years from now.
The activity, which involved casting their votes using ballots and a voting counting machines, was personally witnessed by Comelec Commissioner Al Parreño joined by regional elections officials led by polls regional director, Jose Nick Mendros.
Parreño said that the exercise conducted by their office will help them address the needs and concerns of PWDs as voters.
Just like any regular able-bodied voters of the country, persons who are considered as PWDs and qualified to vote, should be exercise such right.
"Nakita po namin na marami pa kaming dapat ayusin para sa ating mga PWDs. Ginagawa po natin itong activity bilang dissemination kung ano ang kailangan na maiayos sa proseso natin, sa makina natin, sa training natin ng sa gayun ang bawat Pilipino, kasama na ang ating mga PWDs makaboto lalo na sa susunod na presidential elections," Parreño said in an interview.
"Dapat po every person, unless disqualified under our laws, should be allowed to vote, including our PWDs," he added.
Parreño said that among the common issues affecting the PWDs during elections are the accessibility of the voting centers and lack of assistance.
With these conditions, many of the registered PWDs who are registered voters are 'discouraged' to vote.
The poll commissioner, however, could not say to how many PWDs in the country are registered as they are not identified as such on their voters' records. (ROEL T.AMAZONA/JOEY A. GABIETA)