Held every Easter Sunday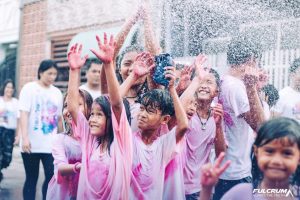 PALOMPON, Leyte-After two years in hiatus, the 'Color Walk Parade' held in this town resumed on Sunday (April 9).
The Color Walk Parade started in 2015 wherein participants are dripped from water cannons full of various colors while they are parading in the towns' major thoroughfares.
The event is held every Easter Sunday but when the pandemic caused by the coronavirus disease (COVID1-19) ravaged the country and the rest of the world in 2019 it was temporarily stopped due to health protocol imposed by the government and the World Health Organization.
The said event is sponsored by the local government and is participated by thousands and was starting to draw tourists.
The walk from the Municipal Hall where the program started going through the major thoroughfares of the town comes next where all participants will be poured with colors in selected stations on their way back to where the program started.
Its restaging last Sunday shows how the participants missed the events as they relished being poured and painted with colored water.
Personnel from the local police and Bureau of Fire Protection were around to secure the peace and order of the street festival and for any possible rescue operation, respectively.
(ROBERT DEJON)