Coca-Cola's 108 years in the Philippines have been made more meaningful by the partnerships it has forged and strengthened with Filipino communities throughout the years. Across the country, Coca-Cola Beverages Philippines, Inc. (CCBPI) has 19 plants and over 70 distribution centers and sales offices—making it possible for CCBPI to fulfill its commitment to serve local communities, reaching as many homes and families as it can.
The Coca-Cola Tacloban facility, which celebrated its 67th anniversary last July 31, has stood as a significant presence in the Visayas region, serving an increasing number of customers and creating positive inroads in the local economy, local job creation, environmental sustainability, and community development.
The Tacloban plant has also been a tangible representation of the Filipino strength of spirit: despite it suffering extensive damage from Typhoon Yolanda in 2013, Coca-Cola decided to revive plant operations and continue its investment in Tacloban. The Tacloban plant resumed full operations in less than a year, an embodiment of the resilience of not only the plant's employees, but of the surrounding communities and the province of Leyte as well. This was further enabled by how Coca-Cola invested an additional $25 million for the rebuilding and rehabilitation of the facility—truly demonstrating the Company's continuous support and its confidence in the potential of its people.
For almost seven decades now, the Tacloban plant has not only generated employment to countless Visayans, it has also been resolute in fostering the growth of the communities that surround it. The state-of-the-art plant employs more than 200 regular associates—111 of which hail from Tacloban, Leyte. It sits on a 2.4-hectare area, and has also been recognized for its numerous community-building activities focused on the environment, education, and disaster relief in the region.
"Tacloban has withstood the worst of natural calamities, and Coca-Cola has been present in every step of its recovery and revival," shares Joel Teves, Coca-Cola Tacloban plant manager. "Our top priorities have always been to secure the welfare of our own people and to continue serving local communities, and we will continue to deliver our best here in Tacloban as we all face new challenges amid the pandemic."
Helping build stronger communities
The Tacloban plant has been actively involved in community programs, such as education projects and sustainability and environmental protection programs, carried out with national government agencies, the local government, and other like-minded organizations.
Since 2014, the plant has participated in coastal cleanups and tree-planting activities, in partnership with the Department of Environment and Natural Resources (DENR) and the Tacloban local government. In the same year, the plant started its collaboration with the Philippine Institute of Chemical Engineers for its "Adopt-an-Estero" project, conducting yearly cleanups of the Company's adopted estero in Brgy. 83, Burayan, San Jose, located in Tacloban City.
The plant has also worked closely, for six years now, with the Department of Education (DepEd), academic institutions, and communities for Brigada Eskwela, which annually prepares public school buildings and amenities for the resumption of classes.
Additionally, since the Tacloban plant started operations, micro and small retailers—sari-sari stores, carinderias, and the like—in the area began to flourish. Through these developments, Coca-Cola products have become more accessible, while new wholesalers and delivery partners have also opened for business.
A partner in ushering the "new normal"
Having been identified by the government as an essential goods manufacturer amid the COVID-19 pandemic, the plant has maintained operations and has promised to protect jobs.
Sustaining that commitment, the company has allocated almost Php2 billion for its employee assistance fund, ensuring that associates were paid during quarantine. Moreover, those part of the skeleton workforce deployed on-site and on the field were provided with additional allowances. Other monetary and non-monetary types of employee support have also been provided, such as the deferment of loan payments to cooperatives and the advanced partial pay-out of 13th month pay, along with full HMO coverage in the event that any associates or dependents contract COVID-19.
With a high priority placed on employee well-being, plant operations adopted even stricter safety protocols—including the required accomplishment of health declaration forms, daily temperature checks, the installation of handwashing stations and foot baths, as well as the disinfection of surfaces and trucks.
The Company's people-first approach has characteristically gone beyond plant walls as well, having allotted Php150 million toward COVID-19 relief efforts. Thus far, almost 1,500 cases of Coca-Cola beverages have been provided to various frontline institutions such as the City Hall of Tacloban, Capitol Province of Leyte, PNP Tacloban City, PNP Palo Leyte, Fire Department of Tacloban City, Municipalities of Lawaan, Eastern Samar, and Dulug, as well as Tacloban North City Hall Extension Office, and the Imelda Avenue, Abucay, and Maharlika checkpoints. Health workers serving at the frontlines of Tacloban's COVID-19 efforts were also prioritized, with beverages donated to hospitals—Tacloban City Hospital, Leyte Provincial Hospital, and Eastern Visayas Regional Medical Center, to name a few.
CCCBPI also recently announced that it will invest an additional $22M (approximately Php1.1 billion) this 2020 to further expand operations via the installation of new production lines across the country, as well as people development through job protection and job generation.
Coca-Cola's Tacloban plant reiterates its commitment to helping surrounding communities prevail over the challenges of the ongoing crisis. "This place is home," said Teves. "We look forward to many more decades in Tacloban and to implementing more sustainable projects that pave the way for a better shared future."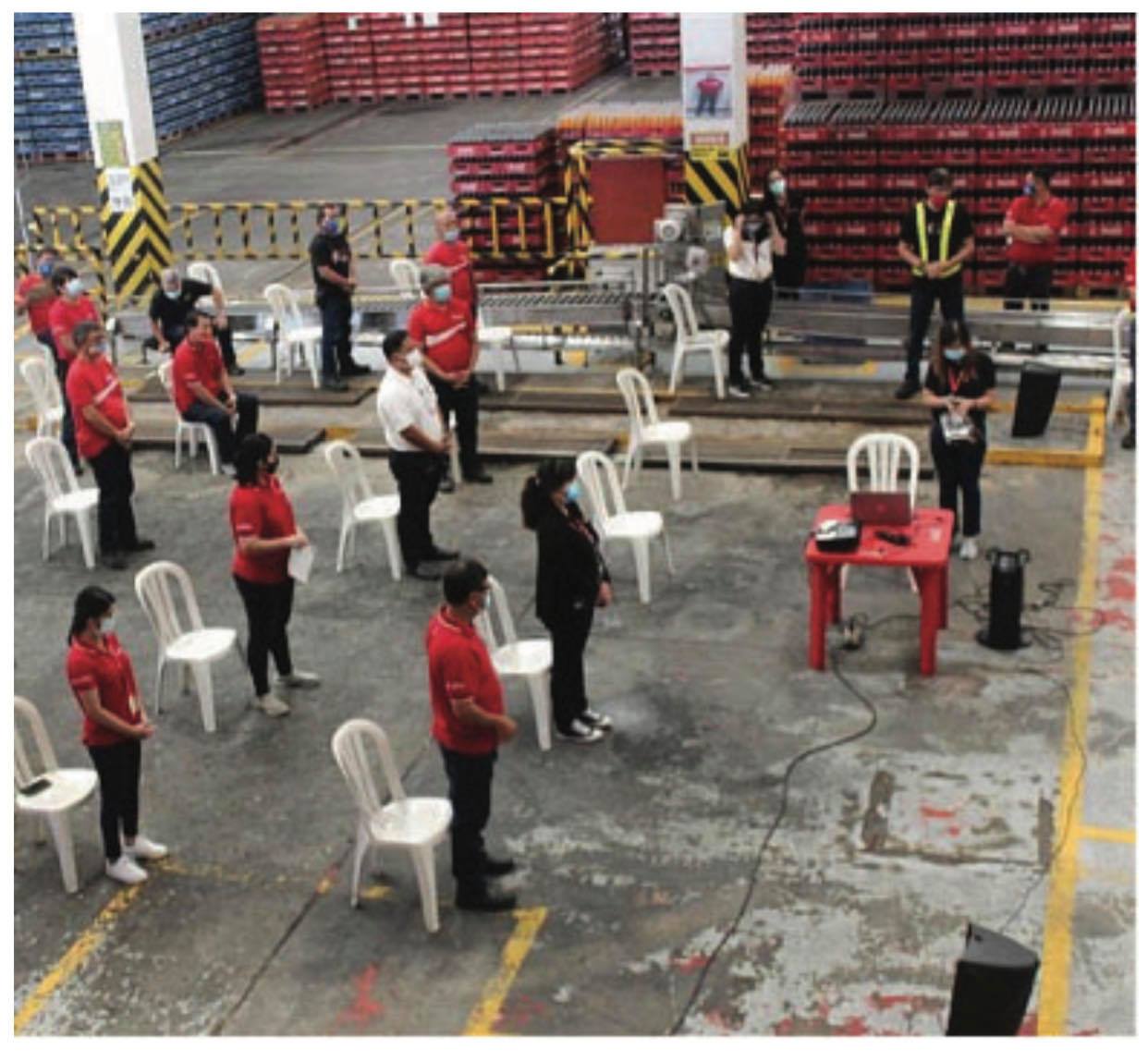 ###
About Coca-Cola in the Philippines
Coca-Cola has been refreshing Filipinos and making a difference in the Philippines for 108 years. The Philippines was Coca-Cola's first market in Asia to begin local bottling operations. Today, the Coca-Cola system in the Philippines has evolved into a total beverage company, offering 19 brands in its beverage portfolio and employing over 10,000 Filipinos in over 19 manufacturing facilities and more than 60 distribution centers nationwide. As part of its long-standing commitment to the country, Coca-Cola continues to #GOBEYONDGOOD as a business by continuously supporting safe water access programs in over 200 communities, empowering over 200,000 women entrepreneurs through training and peer mentoring, and accelerating packaging collection and recycling under its global World Without Waste initiative.