NSSDEO, Brgy. Burabud, Laoang, N. Samar– The residents and passersby along Bantayan Bay, San Roque, Northern Samar, will be safeguarded by the on-going construction of a 320.00 meters seawall against potential sea-level surge.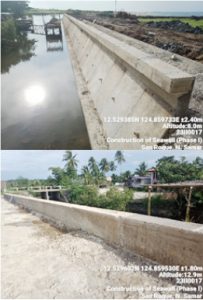 This project was implemented by the Department of Public Works and Highways – Northern Samar Second District Engineering Office (DPWH-NSSDEO), led by OIC District Engineer Charlito S. Carlobos and OIC Assistant District Engineer Atty. Arthur Eric L. Sabong, funded under General Appropriations Act (GAA) of 2023 with an appropriation of P52.25 million.
Furthermore, CDU Construction undertakes the construction work with Contract ID 23II0017 and has contract amount of P 5,0411,055.55.
As of July 31, 2023, it had an actual accomplishment status of 81.05% and a positive slippage result of 54.65%. The project used RC Piles to increase the bearing capacity and to reduce settlement at the site, which are weak compressible soils. Hence, this project may be accomplished earlier than its planned date of completion.
To ensure the quality standard coastal protection project, the DPWH-NSSDEO management assigned, Project Engineer Filoteo T. Delorino to supervise along with Project Inspector Engr. Ma. Luzyl P. Castillo and Resident Engineer Florando Emilio O. Moscare while Engr. Justino E. Serafin, Jr., for the materials quality assurance of the project.
The impact of this project is to provide protection from soil erosion and damage to roads brought on by continuous heavy rains. Since the area has the potential for promoting local tourism, the completion of the seawall project would benefit the town, as well as the province's economy.(ZYRA JOY J. CHING, PIO STAFF)