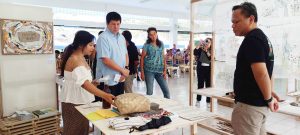 TACLOBAN CITY – Greenpeace together with the University of the Philippines has opened a museum it dubbed a "People's Museum of Climate Justice" as part of the 10th year commemoration of the onslaught of Super Typhoon 'Yolanda'.
The museum, opened on Monday(Nov.6), features objects of memories, mementos, and art pieces contributed by climate survivors from Eastern Visayas, Bohol, Metro Manila, Davao and different parts of the Philippines, creatively illustrating their experiences of the climate crisis.
It is co-created and co-curated with climate-impacted communities with each item signified as a vessel of stories recounting their encounters with extreme weather events and profound impact of climate change.
The launching was graced by Tacloban City Mayor Alfred Romualdez, Greenpeace Rainbow Warrior Ship Captain Hettie Geenen, UP Tacloban Dean Patricia Arinto, Greenpeace Philippines personnel, and partner organizations and students.
Mayor Romualdez challenges the academe sector especially the students to start learning and practicing measures to mitigate the effect of climate change.
The People's Museum of Climate Justice will run its display in UP Tacloban until Saturday (Nov.9).
Then this will be brought to Bohol, then Metro Manila.
Also part of Greenpeace activity is the visit of Rainbow Warrior shop which is currently docked at the Tacloban port.
This is the second time the ship has visited Tacloban since 2018.
Its visit aims to amplify the demand for reparations from the world's biggest climate polluters which are big corporations for their role in the worsening situation of climate change.
(ROEL T. AMAZONA)