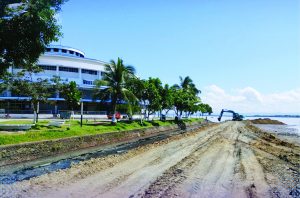 The shooting incident took place in 2019
TACLOBAN CITY– The Criminal Investigation and Detection Group (CIDG) has filed a murder complaint against a Leyte mayor and three others in connection to a killing incident that happened in 2019.
Charged for murder were San Isidro Mayor Remedio Veloso, Emmanuel, Veloso, and Cayetano Dagandan III and Manuelito Sidaya before the Office of the Provincial Prosecutor in Calubian town, Leyte on Tuesday (March 21).
Two John Does were also included in the charge sheet.
All respondents were reportedly linked to the killing of Levi Mabini, then a municipal administrative officer of San Isidro when he was gunned down on May 8, 2019 in Barangay Capiñahan, also in the same town.
The CIDG, in its complaint, claimed that based on the result of their investigation gathered from witnesses, the respondents were said to be behind on the killing of Mabini.
"According to them, the respondents conspiring/planning together, confederating with, and mutually helping one another, did then and there, willfully, unlawfully, and feloniously with intent to kill with evident premeditation, treachery, and taking advantage of superior strength with aid of armed men fire and shot upon the person of Mabini, with the use of long firearms hitting him on the different parts of his body…" it said.
Mayor Veloso could not be reached for his comment but a close ally dismissed the complaint as 'politically motivated.'
"Its just politics. But he will answer the complaint filed against him," the ally, who declined to be identified, said in a phone interview.
December 21 of last year, the sister of Mayor Veloso, Juanito, died after the vehicle she was on board was peppered with gunfire by still unidentified suspects.
The wife of the mayor, Leleena, and the driver, Edmil Bacay, who were also on board, were unhurt.
Mayor Veloso said that he was the target of the gunmen who thought that he was the one on board of the vehicle which served as one of his service vehicles.
He blamed politics as the reason for the incident.
JOEY A. GABIETA