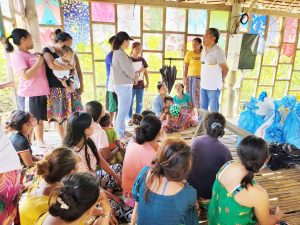 TACLOBAN CITY – Isabel town municipal Mayor Edgardo Cordeňo said that the cholera outbreak in the Badjao community located in Marvel village is now under controlled.
Cases of cholera in the area started last March 26 and saw its surge during the Holy Week, the town mayor said.
They recorded a total of 18 hospital admission but only six of the patients were tested positive for cholera disease based on the confirmatory test conducted by the Department of Health.
Mayor Cordeňo said that a possible cause of the spread of cholera was poor sanitation and proper hygiene among the patients.
"We already went there and taught them proper hygiene exercises like washing of hands, where to defecate, and then now that we intend to isolate them for a meantime to prevent the spread of the disease we will be providing them food packs for 10 days," Mayor Cordeňo said.
"We are thankful to the provincial government of Leyte for giving us 300 food packs and the LGU will just provide additional food packs," he added.
The Badjao village community in Marvel has 48 households comprising 70 families or 300 individuals.
Cordeňo added that they are on the top of the situation as it is now under control.
"The last admission that we had was on April 8, our main concern now is to provide the necessary assistance to help the indigenous people community," the mayor stressed.
(ROEL T. AMAZONA)