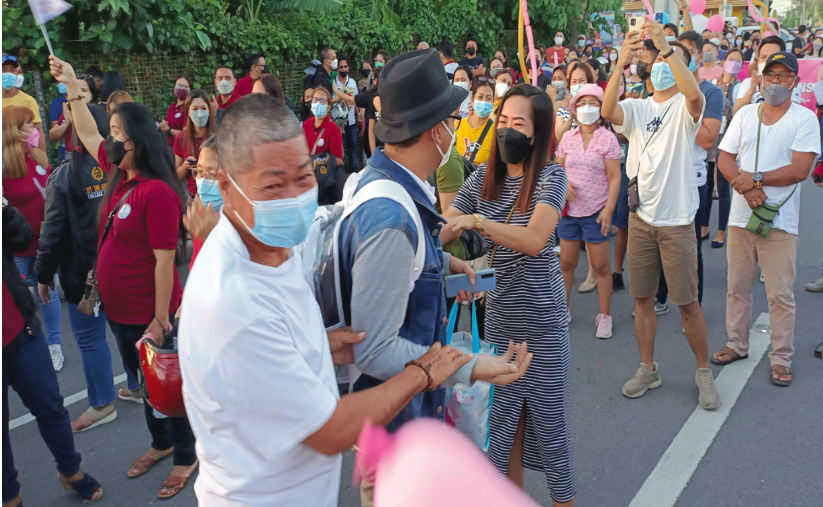 TACLOBAN CITY – Cheers and applause and warm hugs.
These were the scenes after the more than 300 bar takers finished the grueling examinations on Sunday (Feb.6) held at the Dr. Vicente Orestes Romualdez Educational Foundation (DVOREF), this city.
Hundreds of family members, relatives, friends, and classmates of the bar examinee waited for them for hours just to give their loving support, some even giving bouquets of flowers.
As part of the protocols set by the Supreme Court, the waiting crowd was not allowed to get near the examination venue.
A fire truck was also sent near a barricade that was put up.
More than 300 examinees took the first regionalized bar examination in the country, where DVOREF is one of the 28 venues identified by the Supreme Court.
It is also the first to use digitalized examination program.
The 2020/2021 bar examinations that were held last February 4 and 6 were postponed for three times due to the surge of coronavirus disease (COVID-19) cases in the country.
Angela Cabidog, whose son was one of the bar takers, said that she is thankful that finally, the bar examination took place.
"After he passed the CPA board, he told me that he wanted to become a lawyer so I let him, and supported him," the proud mother said.
"What we did was to pray and update him every time and make sure that he won't be disturbed so that he can focus for the bar exam," Cabidog added.
A bar examinee who graduated from San Beda, who asked not to be named, said that she find the questions difficult.
"But it is fulfilling because it is over now," she quipped.