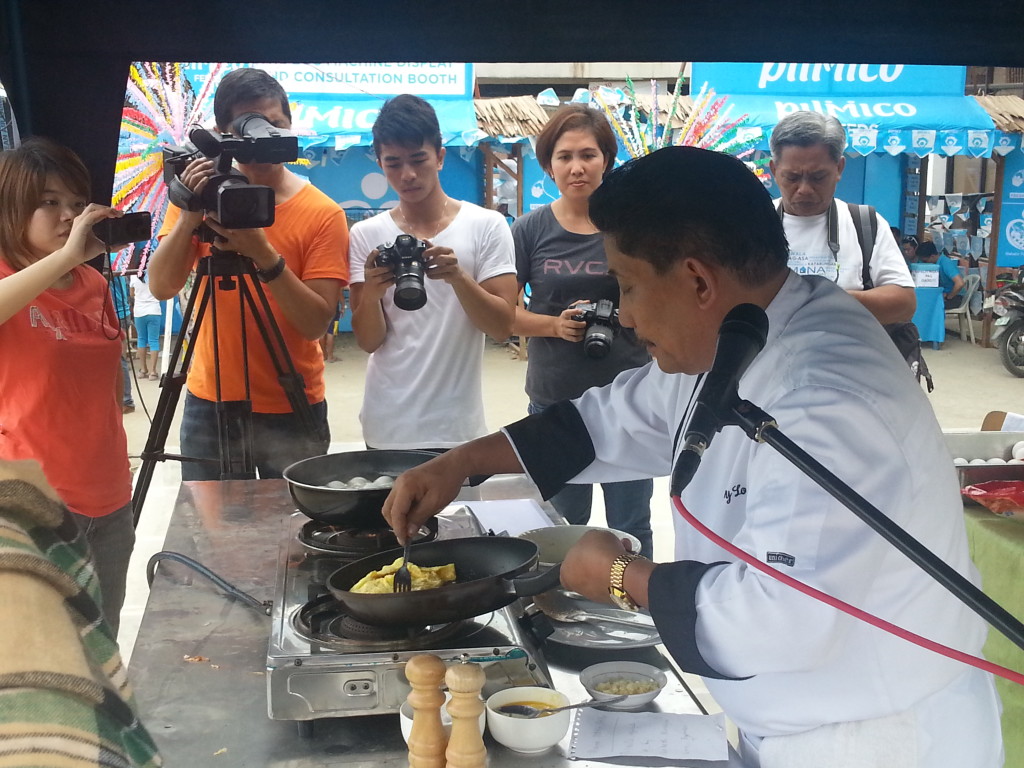 PALO, Leyte- One can cook eggs in so many ways.
This was proven by chef-turned-television host Boy Logro to personally demonstrate to the people of this Yolanda -stricken area the different ways in cooking eggs.
During his visit, Logro, who is a native of Biliran, Biliran, urged the victims present during his demonstration not to be affected by Yolanda but instead make an inspiration out of it to stand up and move forward. He also said that being poor is not an excuse for one to have a better future. Logro said that he came from a poor family but because of his sheer determination, he was able to live now comfortably.
During his antic-filled cooking demonstration, Logro dished out several ways to cook egg, all of his own creations. These included frittata, omelet rice, foo young egg, poach egg, egg pudding, stuffed devil egg, egg maki, egg buffet with culled chicken, baked Alaska and culled burger. Logro, before he started his cooking demonstration, talked his humble beginning as an overseas worker in Oman even he was just an elementary graduate.
He was the chef to Oman Sultan Qaboos bin Said al-Said which gave him the chance to prepare and serve foods to several international leaders and celebrities who included former American president George Bush, the late King Hussein bin Talal of Jordan, former president Hosni Mubarak of Egypt and Princess Diana of Wales.
And when former President Fidel V. Ramos made a state visit to Oman, Logro also prepared and served foods to the visiting former leader. He regaled his audience that as a chef to Oman's royalty, he was able to visit several countries like France and Switzerland. "It was very enriching experience," said Logro.
"There is nothing wrong with being poor. There is nothing impossible in this world for as long as you work hard and asked guidance from God," he added.
Currently, Logro is among the hosts of a morning variety show aired over GMA-7. (ROEL T. AMAZONA)