Part of the Samar Day celebration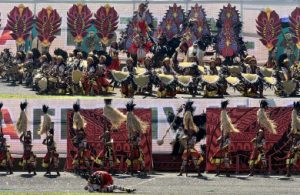 CALBAYOG CITY – The 'Hadang Festival' of Calbayog City emerged as the big winner of the Tandaya Festival of Festivals 2013, a revived cultural festival of Samar province.
The Calbayog City-based festival was one of the crowd favorites, besting 10 other contingents, winning P500, 000 cash prize.
Hadang Festival portrayed a ritual dance that features the olden people of Calbayog on how they court good favor with the gods to bring abundance of harvest, cure the sick, and drive away evil by offering a live rooster.
Calbayog City Mayor Raymond Uy was excited that aside from topping the competition, the city served as the host of the revived province-wide cultural festival.
"We are glad that the festival of festivals was held here in Calbayog and our residents are able to watch the different performances of each locality in the province," he said.
"This allows us to showcase not only our festival but also inform our fellow LGUs that we have the capacity to mount big events and conferences," Mayor Uy added.
The win bolstered their desire to compete at the national level cultural competitions like the annual Aliwan Festival in Manila.
Winning second place was the 'Makarato Festival,' another crowd favorite, of Matuguinao.
Makarato is a festival that highlights the "makarato' variety of red rice produced in the town. They won P400,000.
In third place was the 'Bangahon-Karabaw Festival' of Gandara which tells the story of the town people's journey from escaping the American Forces that are hunting the town people after the Balangiga Encounter in 1901 and how they thrived from producing carabao milk that they uses to produce a "keseo".
In fourth place was 'Tinago Festival' of Tarangnan which tells the story of the town becoming Samar province first settlement and "cabecera" when Jesuit missionaries set foot in there in the late 1500s.
The third and fourth placers won P300,000 and 200,000 respectively while non-winners received P100,000 consolation prize.
The holding of the Tandaya Festival of Festivals, which was stopped due to the coronavirus disease pandemic for the past two years, is among the highlights during the annual Samar Day celebration which is held every August 11 of the year.
(ROEL T. AMAZONA)