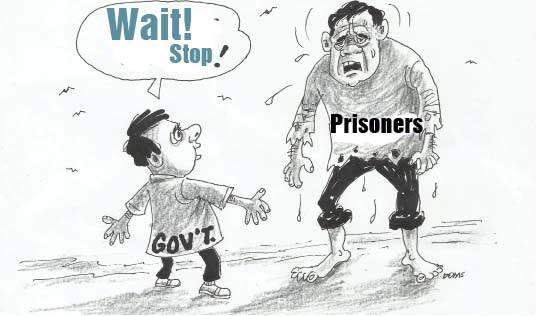 When supertyphoon Yolanda battered Eastern Visayas an appalling news broke: hundreds of inmates from the Tacloban City and the Leyte Provincial Jails escaped. Of all those who broke out more than a hundred from each detention center were to be tracked down. The detention prisoners took advantage of the precarious condition of the jails destroyed by the storm.
Almost three months after, another shocking talk scooted around the Hall of Justice in Tacloban City: another jail break occurred at the LPJ with about two hundred detention prisoners still to be recaptured. But this time, there was no evidence of forced egress. The fugitives passed through the main gate with ease as if they were in command.
There was a breach of tranquility and order in the provincial jail located atop a hill in the remote Brgy. Kauswagan in Palo, Leyte and few kilometers from the Philippine National Police regional command. What used to be a peaceful custodial center for alleged felons suddenly turned into a hatchery of sinister plans to overturn duly constituted authority. It was a semblance of mob rule where looters went on their robbery frenzy without fear of arrest or police encounter.
Thanks to the quick and responsive uniformed men of the Leyte Provincial Police Office detailed at the vicinity of the provincial jail, a hundred and forty-three absconders were in no time wasted recaptured and placed behind bars again. Still a sizeable number are on the loose creating fear at least among those who were involved in the cases they are facing or those directly embroiled in what they complain of. Just like what?
Delay in the distribution of food being rationed to the detainees is one. Another is an even more dismal delay in the termination of their cases. One inmate claimed that their cases take too long to be heard or called again in court or worst not called at all.
These two excuses could be valid but necessarily too compelling as to move them all detainees to jump out of the detention cells and go scot-free from their stainless shackles and face the risk of being fugitives of the law. Something must be lying beneath the tip of the iceberg.
Whatever the whys and wherefores are, they surely are a rehash of the usual plight of inmates ignored through the years, pent up feelings that were never elevated and grievances taken for granted. This breach could not have happened with a sound leadership of the jail. Something must be worked out to improve the situation for those left in prison.