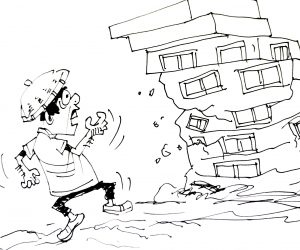 Unlike before when it would take decades for an interval, major and powerful earthquakes now are almost simultaneously occurring in various parts of the world, suggesting that the pattern has changed, just as the weather patterns and the ocean temperature patterns worldwide had also altered.
The latest 7.8-magnitude deadly earthquake that hit Turkey and Syria was recently followed by a 6.8-magnitude tremor in Tajikistan, affecting Pakistan, China, Uzbekistan, Afghanistan, and Kyrgyzstan. Our country is not spared. Just yesterday, Feb.24 at around 4 a.m., a 6.6 quake hit the southeast portion of Sarangani, Davao Occidental.
That Turkey-Syria earthquake would likely cause the same devastation if it hits a big metropolis like Metro Manila or any other big city in the country. At present, the combined death toll of that devastating earthquake is around 50,000 people. The mortally injured could be more than that, and they are not receiving proper care and medical treatment due to the massive destruction of infrastructure, including roads and bridges.
So far, there is no technology yet that can stop that natural calamity from occurring. But we can do some things to mitigate its destructive and deadly effects. That is why various institutions are having earthquake drills to orient people on what to do in case powerful quakes occur. It's no joke, as some participants would take these drills. Although panic could make people hysterical in a chaotic, powerful quake, what they learn from drills could somehow help.
We should then bear in mind that, at any time, we may experience the same natural calamity, in addition to the frequent typhoons that we encounter year-round. It pays to be prepared, not just physically, but mentally as well.