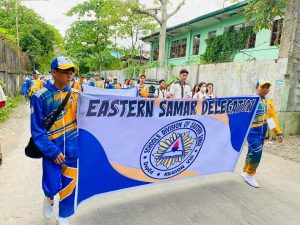 TACLOBAN CITY – The city government of Borongan will be holding a sports summit next month in an effort to enhance its local athletes who are competing for the city.
The proposed sports summit will also be included as among the activities for the Charter Day celebration of the city in June.
City information Officer Rupert Ambil, said that the sports summit will create a clear and permanent sports program that will turn their young athletes competitive not only for regional competitions but even in the national or international stages.
During the recently-held Eastern Visayas Regional Athletic Association (EVRAA) Meet, Borongan landed 12 among the 13 competing delegations, garnering three golds, three silvers and 11 bronzes.
"After all the lessons that we've learned, we sit down with all of the stakeholders during the sports summit in June, and create a sports program," Ambil said.
"Our kids come and go, but our mentors, our coaches will remain in Borongan. We have to create an opportunity for them to mentor other mentors, and enrich our capacity to create better athletes and create a sports program that does not waiver in terms of training that trains whole year round," he added.
Ambil further said that the city government under Mayor Jose Ivan Dayan Agda will be focusing on the Department of Education sponsored sports competition by giving incentives to sports organizations in Borongan that will support any sports program of the education department.
"Hopefully, one of the priorities of the city is to create enough facilities for our sports program. Among projects that is in the pipeline of the city is to create a sports coliseum, which we will be proposing in the next several years," he added.
(ROEL T. AMAZONA)