TACLOBAN CITY– The city government of Borongan was chosen as one of the eight model cities and communities in the country for championing Age-Friendly Cities and Communities (AFCC).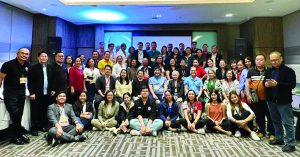 The selection of Borongan City was made by the World Health Organization (WHO) and the National Commission of Senior Citizens (NCSC) during the national convention held in Mandaue City held last July 21.
Along with Borongan City, represented by city social welfare and development officer Verina Amoyo, Engr. Fatima Catudio, and special operations officer Cynthia Arceño, also named in the list were Camarines Norte province; Culion, Palawan; Island Garden City of Samal; Maguindanao Del Sur; Parañaque City; Sabtang, Batanes; and Santa Catalina, Ilocos Sur.
The event was primarily aimed at introducing the concept, sharing the initiatives of local government units, and identifying salient features that should be in the implementing guidelines for the Philippine AFCC.
Borongan presented at the said event its institutionalized social services such as the monthly monetary allowance for senior citizens, 'Dukwag Agrikultura', 'Libre Medisina', and other LGU programs that nurture senior citizens.
During the convention, NCSC Chairman Atty. Franklin Quijano reminded the attendees to always include senior citizens in every program and project implemented in their respective LGUs.
He likewise highlighted inputs during the orientation that can be adopted for future guidelines to be set for AFCC.
Next month, the WHO and NCSC are scheduled to visit Borongan to document and interview some key officials regarding the aforementioned social services presented during the convention.
The activity ended with the signing of a memorandum of cooperation to reaffirm the participant's dedication to fostering communities that are designed to be accessible to and supportive of senior citizens.
(ROEL T. AMAZONA)