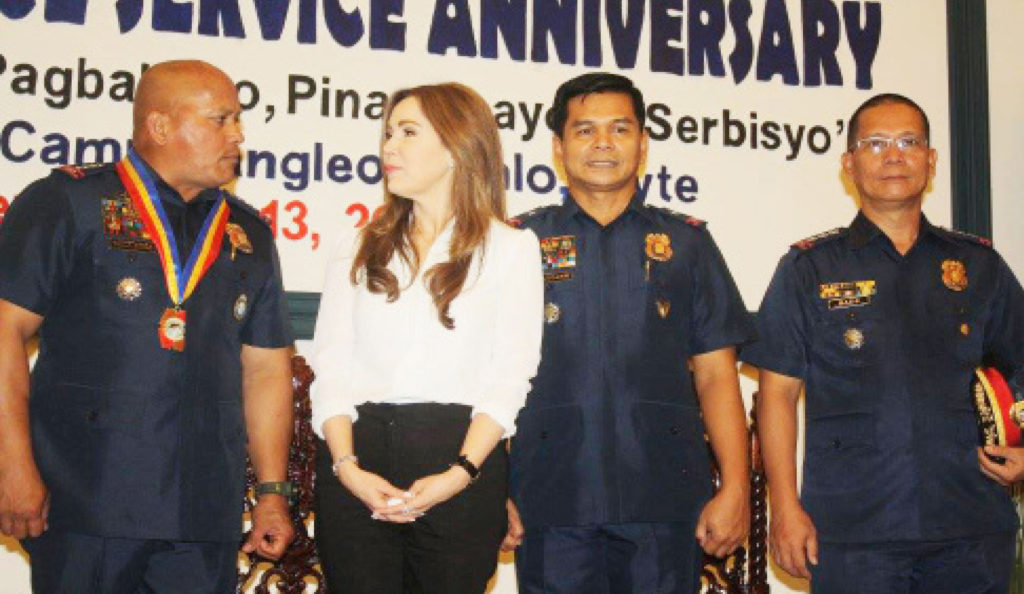 Intensified drug war
PALO, Leyte- As Police Director General Ronald 'Bato' de la Rosa directed his men to "triple" their efforts on their war against illegal drugs to meet their six months target, he reminded them to always observe the human rights of the civilians, to include the suspects.
The intensified campaign on the proliferation of the illegal drugs waged by the administration of President Rodrigo Duterte has met strong rebuke from various human rights groups and even from foreign countries.
de la Rosa, who graced on Tuesday(Sept.13) the 115th police service anniversary held at the regional police headquarter at Camp Ruperto Kangleon, this town, said despite the strong criticisms, he want the campaign to continue and meet the deadline set by the President for them to finish the proliferation of the illegal drugs.
"Despite the criticisms from other sectors, let us just do our job and do it well. Dapat mangibabaw pa din ang respeto sa karapatang pantao sa lahat ng pagkakataon," he said in his speech in front of officials and personnel of the Philippine National Police during the program held at the Matapat Hall.
He, however, said that he would rather see alleged drug pushers or users who resist arrest killed than seeing a police officer.
"As I have said time and time again, during an encounter, once the smokes clear, I want to see the cop standing and the criminal lying down the pavement," de la Rosa said.
"(But)let us keep in mind that no civil or political rights are suspended during the existence of the state of lawless violence kaya maging maingat pa rin tayo sa gitna ng matapang na pagpapatupad ng batas," de la Rosa said.
Pres. Duterte declared the state of lawless violence on Sept. 3 in the aftermath of a bombing incident at the night market in Davao City that killed 15 people and injured 71 others.
Critics described the move as almost a declaration or "creeping martial law" where police or Army force are giving more powers and could arrest any civilians even in the absence of a warrant issued by the courts.
Mr. Duterte declared that he want to finish off the proliferation of the illegal drugs in the country in six months counting from the day he assumed Malacañang on July 1.
According to de la Rosa, with only four months remaining before the deadline, they have to hasten their efforts in the implementation of the campaign."
"We're running out of time na kasi kaya kinakailangan ko ng umikot sa lahat ng region para hikayatin at personal na kausapin ang ating kapulisan to do double time, triple time our efforts dahil mga ilang tulog na lang, nasa third month na pala tayo and we're only given by the President six months to eradicate the drug menace in our country," he said.
According to him, based of the 1.8 million target of illegal users and pushers, only more than 700,000 have voluntarily surrendered under "Oplan Tokhang."
He said that from July 1 up to Sept.1, 652,370 drug users and 51,791 drug pushers have surrendered.
In Eastern Visayas, 20,528 drug users and 2,609 drug pushers have gave up to the police authorities covering the same period.
de la Rosa said that he would be more glad if the regional police could arrest Kerwin Espinosa, tagged as Eastern Visayas top drug lord whom he had earlier issued a shoot on sight order.
Kerwin, who is believed to be in Malaysia, is the son of Albuera Mayor Rolando Espinosa who had already sought protective police custody and issued an affidavit naming 74 government officials and 154 civilians as their alleged protectors for them to continue their illegal drug activity.