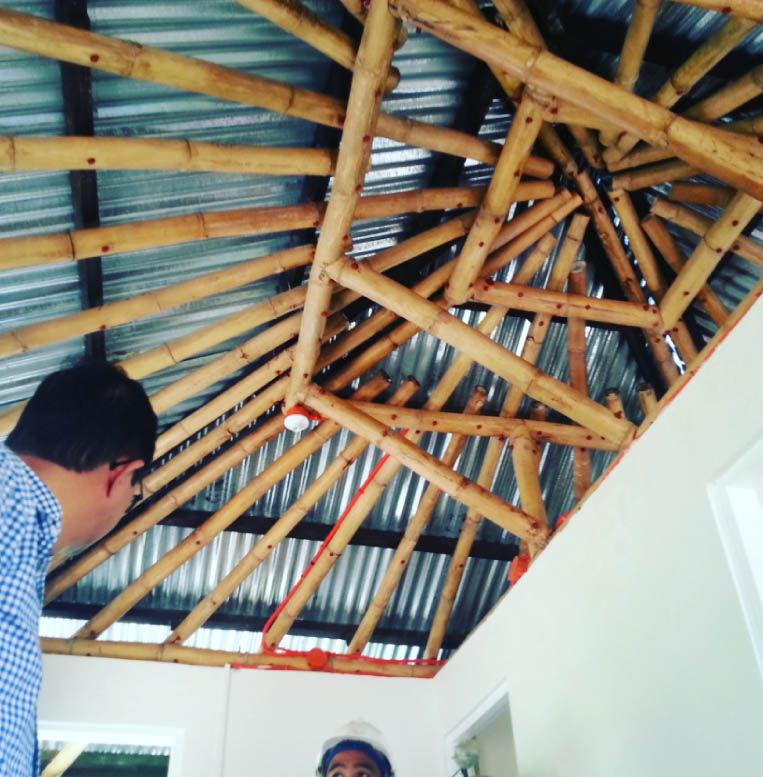 TACLOBAN CITY- A new way of constructing houses using bamboo as the main material is being introduced by the Hilti Foundation (Base Balay Inc.) in partnership with the Operation Blessing intended for families in Tacloban who completely lost their houses due to supertyphoon "Yolanda." The bamboo-made housing units are to be constructed in Barangay Palanog.
Jessimar Gallarde, project site engineer of Base Bahay, said that using bamboo in the construction of houses is environment-safe. He also said that the technology will also provide employment as they intend to put up a factory in Tacloban once they get the needed supplies of bamboo. He added that they are using "kawayang tinik" or thorny bamboo in the construction of houses in Palanog which is abundant in the province. "There are still laboratory tests being conducted for other bamboo species but as of this time, this specie is the only acceptable and the only approved specie for construction use," he added.
Gallarde added that they are hoping that this new technology will be incorporated with the building code of the country. "This bamboo technology was laboratory-studied to ensure that structural design of the house is very resilient from disasters like typhoons and earthquakes," added Gallarde.
Houses made of these materials are designed to withstand an 8 intensity earthquake and winds of up to 280 kilometers per hour. Base Balay and Operation Blessing are constructing 324 housing units in a 1.5 hectare land in Palanog area for families from Barangays 89 and 90 in this city who lost their houses during the onslaught of super typhoon "Yolanda."
Each unit cost PP350,000 and measures 25 square meters and two meters away from the next unit. The company is hoping to reduce the construction cost of this type of houses once they are able to set up a plant in Tacloban. About 20 units were initially targeted to be finished by November 24 of this year while the rest are expected to be finished before the end of 2016. Aside from Palanog, Base Bahay is using the bamboo technology in projects sites of Operation Blessing in Jaro, Estancia both in Iloilo and in Bagong Silangan in Quezon City.
(ROEL T. AMAZONA)