A human rights advocate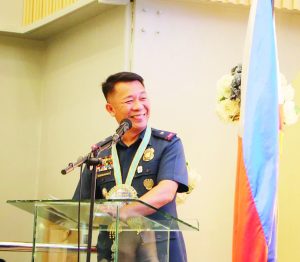 PALO, Leyte– A human rights defender is the new police director for Eastern Visayas.
B/Gen. Vincent Calanoga assumed his post on Saturday (May 6) during a turnover ceremony at the Camp Ruperto Kangleon, this town, replacing B/Gen. Rommel Francisco Marbil.
Marbil was named as the officer-in-charge of the Directorate for Comptrollership at their national headquarters.
Marbil served as the police regional director for Eastern Visayas for nine months starting August 8, 2022.
Calanoga, prior to his assumption to the region, was the head of the human rights affairs office at their national headquarters.
The new regional police director said that among other thrusts of the police organization, he would continue the campaign of the government against illegal drugs.
He, however, stressed that police officers should 'at all times' observe respect for human rights.
"We will continue the campaign on illegal drugs but will make sure that our police officers will respect human rights, especially to our civilians," he said in an interview after the turnover rites.
He also said that at this time, he does not see any revamp among officials of the police organization in the region until he is able to review their performances.
"There will be no revamping or reshuffling. Kung may nakikita tayong nagkulangan, pwede natin tulugan para mag-improve. Pag hindi mag cope up, then that's the time na pag-aralan natin kung pwede natin ilipat or submit for training," Calanoga said.
He said that he is giving the policemen of the region his '100 percent trust and confidence' to perform their sworn duties and responsibilities.
"As police officers, they need no instructions. They are there to perform their mission to promote law enforcement, peace and order, public safety, and internal security," Calanoga said.
Meantime, Calanoga also vowed to continue all the programs and projects started by his predecessor.
In particular, he will continue to implement the Task Force Maharlika wherein major routes along the Maharlika Highway, stretching from Northern Samar up to Southern Leyte are guarded with police personnel.
The task force aimed to derail any commission of crimes using the said major highway. It was credited for the discovery and recovery of illegal drugs being transported along Maharlika Highway.
Meanwhile B/Gen. Marbil said expressed his gratitude to the policemen and women of the region and the public while he was the police regional director.
The turnover was presided by PLt. Gen.Patrick Villacorte, the commander, Area Police Command for Visayas; Tacloban City Mayor and Regional Peace and Order Council chairman Alfred Romualdez; and Regional Director Arnel Agabe of the Department of Interior and Local Government, among others.
JOEY A. GABIETA/LIZBETH ANN A. ABELLA