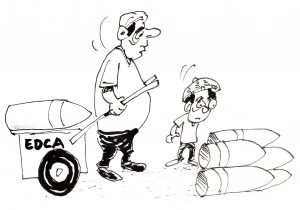 The establishment of the Enhanced Defense Cooperation Agreement (EDCA) can be blamed on China, the Philippines, and the United States if we are to look at the disadvantages and dangers that it poses to the tripartite nations. Its full implementation means heightened militarization of the Philippines through the deployment of more US military assets and troops.
Our country under its present administration is agreeing with this defense cooperation due to China's continued threats and aggression in the West Philippines Sea. Bullied by this military giant, the Philippines cannot stand alone in the face of its military might, hence our reliance on and enlistment of US military support. Our country need not do it were it not for China's resolve to use military power in asserting its territorial claims. China in the first place is to blame for its provocative claims of maritime territories owned by other countries.
But no matter how the Philippine government explains it, it is still improper for us to have additional US military troops and facilities since we are an independent nation running its own affairs. We are not a colony of the US. Besides, establishing EDCA military bases fronting Taiwan and the West Philippine Sea would make our country a sure target of Chinese missiles should these two superpowers clash. Imagine their battle being fought on Philippine soil! That's us being dragged into a bloody and devastating conflict.
The increasing tension can also be blamed on the US for instigating a would-be war it had already contemplated for a long time, at the expense of other countries like ours. It should stop using other countries for its interests, making proxy and hostage nations out of them. It's just taking advantage of our strategic location in dealing with its enemies so that they would have a place from which they can strike their foes in the event of war. That's making us a shield and front in the battle, with us as heavily affected and devastated.
It's quite inappropriate to just blame one party here—we are putting these three to blame in case World War 3 would escalate. They are all to blame.