TACLOBAN CITY – A group composed of fur parents is taking the initiative in giving foods to stray dogs and cats around the city.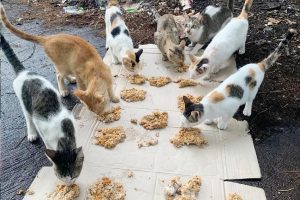 And this group, Tacloban Dog Owners Association (TDOA), has been doing this for two years now, feeding thousands of dogs and cats loitering in the city streets.
James Araza, a TDOA member, said that they conduct their feeding activity every three months in partnership with the Central Kanhuraw Eagles Club.
He said they are feeding these stray dogs and cats the same foods that they give to their pets.
According to Araza, most of these dogs and cats have owners but are left unattended reason that they just look for foods in the streets, mostly in trash bins.
Araza reminded pet owners that they should be responsible when they decide to own pets and make sure to take good care of them and provide their basic needs like food and love.
The pets like dogs and cats only need a warm and safe shelter to live, including food and water and in return, they will give you their unconditional love, loyalty, and companionship, he said.
"Loving and taking care of your pets has nothing to do with their breed. When you decide to have a pet, you love them unconditionally no matter what breed they have," Araza said. (ROEL T. AMAZONA)