Rumor causes panic among residents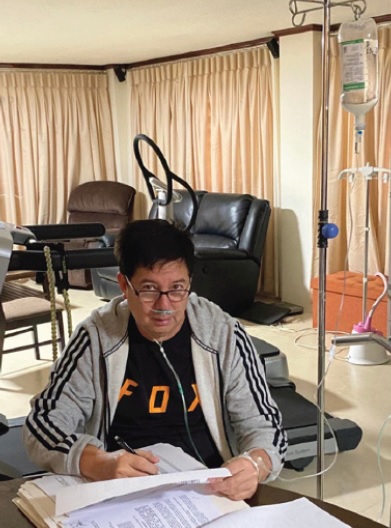 TACLOBAN CITY- No lockdown in the city.
This was clarified by City Mayor Alfred Romualdez amid rumors that Tacloban will be placed under lockdown this Christmas.
Romualdez said that instead of the rumored lockdown, protocols on the returning residents of the city would be stricter,among other measures.
"The city of Tacloban will not be on a lockdown this December. We will just be more strict on our protocols, (especially) on the returning residents," Romualdez said on his video message released by the Tacloban City Information Office on Monday afternoon.
Romualdez made this clarification as rumor has been circulating in the city last week that Tacloban will be placed in a lockdown due to its increasing number of coronavirus disease (COVID-19) cases, sending residents into panic.
The city has now 1,146 total cases with 17 deaths.
Mayor Romualdez has also appealed to the Taclobanons to also observe the health protocols, especially now that gatherings could not be avoided due to the Christmas season.
"Let's just be careful. Dumadami ang tao sa downtown.Let's exercise social distancing, wear a mask," Romualdez, who admitted last Dec.10 that he had acquired the virus, said.
Earlier, both Vice Mayor Jerry 'Sambo' Yaokasin and city administrator Aldrin Quebec also dismissed the rumor saying the city would not be placed in a lockdown.
Meantime, Mayor Romualdez gave his appreciation and gratitude to those who have prayed for his fast recovery.
He also said that he is doing well and expected to recover from the ailment and is raring to report for work.
It is not yet cleared how Romualdez acquired the virus.
Meantime, the number of persons who died due to the complications of the coronavirus disease (COVID-19) in Eastern Visayas has climbed to 107.
Based on the records of the Department of Health (DOH), of the four new deaths of the region, three of them succumbed on Saturday (Dec.12).
The other one was reported to have died on Dec.10.
On Dec.12, the province of Northern Samar logged two new deaths involving a 67-year old man from San Roque town and a 58-year old man from San Vicente town.
With the new two deaths, the province has now 18 recorded deaths due to COVID-19 complications.
Ormoc City in Leyte posted two new deaths involving a 78-year old woman who died on Dec.10 and a 62-year old man who died on Dec.12.
The city is now seeing a surge of COVID-19 cases.
Ormoc has about 70 active cases.
In his short message, Mayor Richard Gomez issued his appeal to his people to strictly observe all the health protocols like wearing of face mask and shield and social distancing.
As of Monday, Eastern Visayas has 9,506 COVID-19 cases counting from March of this year with the additional of 86 new cases.The new cases were from Leyte with 61 new cases; 14 from Biliran; five from Northern Samar; four from Eastern Samar; and two from Samar.