NSSDEO, Brgy. Burabud, Laoang, N. Samar-Convenient transportation of goods and services from Barangay Vigo to Barangay Atipolo, Laoang, Northern Samar is now experienced due to the Department of Public Works and Highways – Northern Samar Second District Engineering Office (DPWH-NSSDEO)'s implementation of a road project.
The road construction is now at 69.21%, consisting of 1,860.00 meters of roadway with a thickness of 0.23m and a width of 5.00 m, with a 1.50 meters shoulder on both sides.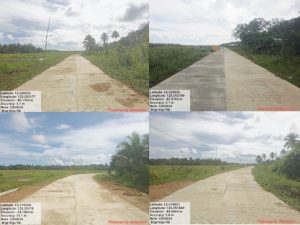 The allocated amount of the General Appropriations Act (GAA) of CY 2023 for this project is P45 million. Its construction work is being carried out by the ADB DYNAMIC BUILDERS & SUPPLY/CUPIDS BUILDERS & SUPPLY (JV) under contract ID 23II0024.
NSSDEO assigned personnel to ensure that the work on site meets quality standards. Thus, Project Engineer Miriam O. Engo is directly supervising the project, with the assistance of Project Inspector Jerome D. Palma and Resident Engineer Immanuel Jieg V. Merino, while Engr. Eliseo B. Allado, Jr., is responsible for the material quality assurance.
The completion of this project will benefit both Brgys. Vigo and Atipolo by providing an accessible road for the transportation of basic goods and services.
The residents will no longer have to endure the difficult situation in transporting their agricultural products.
The completion of this project is also expected to boost commerce and economy of the community.
(ZYRA JOY J. CHING, PIO STAFF)