TACLOBAN CITY – The song 'Han Pag-uran' of Mando De Leon, Gus Plamenco and Mark Paul Alcala bagged the top prize for the third season of the Samar Pop Music Festival (SPOP) held on Dec. 23 at the San Juan Bay the Bay board and Tourism Center, in Sta. Rita town, Samar.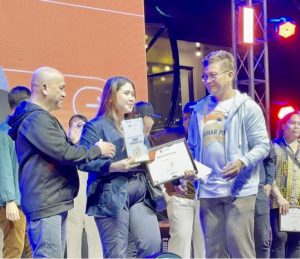 SPOP is an annual songwriting competition in Binisayá/Winaráy of Samar province that was launched in 2020 by the provincial government.
This aims to open the door to local talents of Samar to feature their passion for music and songwriting.
Meanwhile, the song 'Kay Ano' of Azby Lucero was the 1st runner-up while 'Kalma La' of Ysa Romano was named as the third placer.
Top winners received P100,000 cash prizes while 2nd and 3rd placers bagged P75, 000 and P 50,000.
A total of 63 entries joined the competition which was trimmed down to 23 with the 10 finalists performing their compositions.
Minor awards were also given which include the best lyric award bagged by the song 'Pukrat' by Angelo Distrajo and Joshua Tapia; best musical arrangement to 'Han Pag-uran' of Mano de Leon, Gus Plamenco, and Mark Paul Alcala; best interpreter to Ysa Romano of 'Kalma La'; audience choice award was bagged by Armen Oite and Chris Layam for 'Sa Duyan Mo.'
The best MTV Award was bagged by 'Ibalik an Balud' of Carl Llledo and 'Akun Baysay' of Clark Ortiz and Ian Leones.
Minor award winners received P5, 000.
Prior to the finals, the 10 selected finalists undergo a boot camp wherein they harness and improve their songs with some respected people in the music scene here in the region, and the country.
The composer undergo training/workshops in Lyric Writing, Music Arranging, Digital Recording and Marketing, and Music as a Career.
Trainers at the boot camp includes songwriter, musical director for stage, film, and commercial recording, Lucian Letaba, composer, singer, and arranger Noel Cabangon, and VisPop songwriter and arranger Jude Gitamondoc.
"The provincial government through Governor Sharee Ann Tan and the congressmen of the two districts of Samar, Congressman Stephen James Tan, and Congressman Reynolds Michael Tan are thankful to all those who join the third session of SPOP," Samar Tourism Office Marvin Piczon said.
"They believe that Samarnon has an innate talent in music that is why the provincial government created this program under the cultural preservation and enhancement," Piczon added.
(ROEL T. AMAZONA)