TACLOBAN CITY –The Regional Tripartite Productivity Board (RTWPB) awarded 10 small, micro, and medium enterprises (SMEs) in the region during the 2023 Productivity Olympics Regional Award.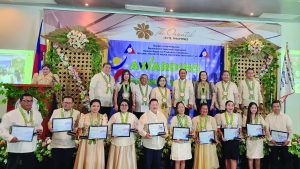 The awardee includes Bibar's Farm, and Mary's Abuyog Spesyal Tsokoleyt Moron Atbp., for micro category; Alto Peak Chocolate Processing, Eva Marie Arts and Craft, Ladea Artspot and Advertising, Abuyog St. Francis Xavier Credit Cooperative (AFCCO), Northern Samar Multi-purpose Cooperative (NSDWCC), PASAR Employees Multipurpose Cooperative, and Palompon Community Multi-Purpose Cooperative – PACCI for small category, and Don Orestes Romualdez Electric Cooperative for the medium category.
RTWPB-8 chairperson John Henry Jalbuena lauded the awardees for their commitment to excellence and seal of productivity that made them 'undoubtedly surpass expectations, showcasing not only impressive abilities but also serving as an inspiration to all those who witness their remarkable journey.'
"Your accomplishments stand as testimony or testaments to your unwavering determination and relentless pursue of success reflecting the true essence of Productive Olympics," Jalbuena, who is also the regional director of the Department of Labor and Employment (DOLE), said.
"Your stellar performance not only contribute to your personal growth but also positively impact the entire workforce in our region by setting new benchmark or productivity and exemplifying the power of sheer determination, you have become an exemplary role model for your peers and individuals across various industries," he added.
The Regional Productivity Olympics is a biennial competition that serves as an advocacy strategy to heighten national consciousness and commitment to quality and productivity, and showcase best designed and successfully implemented productivity improvement programs and practices of MSMEs in the agribusiness, service, and industry sectors.
The awardees were chosen from the submitted nomination at the RTWPB and were screened by members of the regional screening committee.
The 2023 Productivity Olympics Regional Award is anchored on the theme, "From Striving to Thriving: Reset and Reposition for Impact".
(ROEL T. AMAZONA)