Rico Palconit has a cleft palate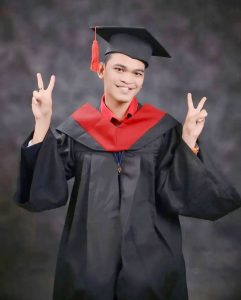 TACLOBAN CITY – Rico Palconit did not allow his physical deformity to be a hindrance to his goal to have a good future.
The 25-year-old native of Cabucgayan, Biliran province has a cleft palate that was both a source of bullying and inspiration for him.
Despite of the bullying he endured, Palconit proved to himself that he could overcome the bullying as he graduated magna cum laude earning a degree of Bachelor of Science major in Information Technology at the AMA Computer Learning Center, this city, in a graduation rite on August 2 with over 500 graduates.
Palconit, eldest among his brood of six siblings, said that despite his physical deformity, he was determined to finish his studies and find a better job to help his family.
He also said that what inspired him to do well in his studies was to prove to those who bullied him that he can make it despite his condition.
"I want to help my family and what motivated me to do well in my studies is my (late) father and the people who thought I could not make it because of my physical condition," Palconit said in an interview through a private message application.
It was learned from him that when he was about to enroll his college, he first went to the grave of his father, Roque, and vowed that he would finish his college with flying colors. He lost his father when he was just three years old.
He survived his college as a government scholar and with the help of a sister who is now based and working in Tacloban.
Palconit, who has been a consistent honor student since elementary, admitted that because of his condition, he has been subjected to bullying since he was a child and even up to this day.
Due to his physical condition, he has some difficulties in speaking.
"My college life was not good as I expected. There were still bullies, discouragements, judgments, and all but I faced all of them and take them as my source of strength," he said.
"When there were times that I felt hopeless and empty, I just look back for what I have promised because I am so scared to break it," Palconit added.
He said that he hopes that his story-full of struggles but at the same time, punctuated with small victories, will serve as an inspiration to those who are also suffering the same physical condition.
He said that now that he is done with his studies, he wants to help his widowed mother, Lani, and two younger siblings for them also to finish their studies.
And armed with determination, Palconit said that he will apply for work and help his family.
( JOEY A. GABIETA)