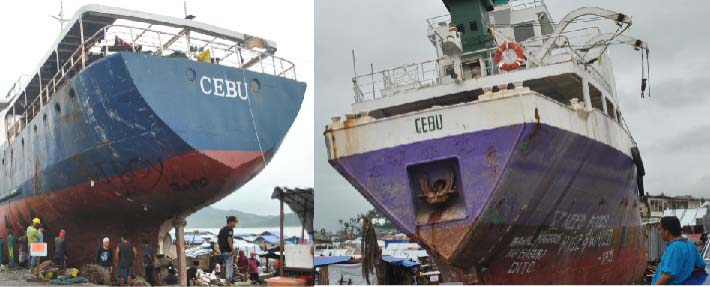 TACLOBAN CITY-Onlookers and even tourists still flocks to a commercial vessel that was washed inland in one of the depressed barangays of this city during the onslaught of the Supertyphoon Yolanda.
But their curiosity might just come to its end as the MV Eva Jocelyn would be removed from where it is now located.
Had they would know that the freak incident would result to visitors and even ordinary onlookers coming to their village just to see the ship, they would have put up a donor's box, resident Luencia Menseza said in jest.
"Since that ship was washed inland, many people, even foreigners, came here to take its picture. We could have at least put up a donation box where they could drop some coins which we the villagers could use as part of our barangay funds," the 42 year old mother of four said.
Menseza, however, turned serious by saying that she favors the ship be removed from their village saying it serves as a "grim reminder" of their experience of Yolanda.
Incidentally, her house was one of those hit by the MV Eva Jocelyn when it was washed inland at the height of Yolanda's fury in the morning of November 8, 2013.
More than a dozen of houses were hit by the MV Eva Jocelyn when it reached to the streets due to strong waves and storm surge generated by Yolanda.
The more than 800 tonnage commercial ship, laden with 14,600 bags of cement at that time, was washed inland at Barangay 68, one of the five barangays located in Anibong District, a coastal area teeming with houses made of light materials.
More than 20 people were killed in their village by the supertyphoon. Among those killed were Menseza's mother-in-law, Flocer and sister-in-law, Nerva.
The commercial ship, which departed from Cebu on Nov.2 and anchored at the middle portion of the Anibong Bay, was scheduled to depart Tacloban after it unloaded the bags of cement on November 5.
"But we were directed by the Philippine Coast Guard not to depart due to the Yolanda. So we just stay in the bay and just on a standby engine. But during the typhoon, the ship was battered with strong winds and the storm surge pushed it to the inland. Of course, we were shocked to see that we're now in a community and in the street," said its ship captain Randy Lucero. He was with 19 other crew members.
The ship was washed inland at more than 40 meters away from the Anibong Bay where it was anchored.
On Wednesday during the visit of the Inquirer, some foreigners and even locals coming from other places were seen taking picture of the commercial vessel.
When approached, a foreigner who belong to a humanitarian aid group, declined to be interviewed though he kept on taking pictures of the MV Eva Jocelyn.
But Divina Herrera, who is from Cavite but is now in Tacloban to provide assistance to storm victims representing their group, Filipino-American Association of Pensacola, Inc. based in Florida, said that she welcomed it to become a tourist attraction.
"While the ship will serve as a reminder to the people of the village of Yolanda, there could be a positive side of it. They could perhaps earn out of it," she said.
She also said that the ship could also served as a living reminder that it was due to Yolanda that the peoples of the world showed their "humility and generosity" by providing assistance to the storm victims.
Earlier, a shipping company expressed its desire to turn it into a restaurant before the Philippine Coast Guard office based in Tacloban.
But this proposal of the Roble Shipping Company, which is based in Cebu, would not be realized as they want it remove from the area, says PCG station commander Lt. Junior Grade Paul Gonzales.
In fact, since January 13, men of the ship were seen slowly removing the ship using hydraulic jack and rollers to push the commercial back to the water.
During his January 24 visit, Tourism Secretary Ramon Jimenez turned down any possibility of making the ship into tourist attraction.
"Out of respect to people affected, that should be removed. If we want to preserve it, just take photos of it," he had said.
Aside from MV Eva Jocelyn, other ships were washed inland during the superstorm, MV Star Hilongos, MV Jaguar, MV Tomi Elegance, MV Gayle, MV David, MV Rosemar, MV RKK Trio, MV Lancer, MV Ligaya and a dredger of the Department of Public Works and Highways.
By: JOEY A. GABIETA