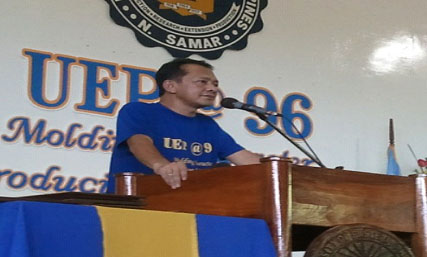 CATARMAN, N. Samar- The University of Eastern Philippines, the first state university in Eastern Visayas, celebrated its 96th founding anniversary last June 20, 2014, with the theme: "96 Years of Molding Character, Producing Life Winners." The three- day celebration started on June 18, 2014, Wednesday, with costume, dancing parade, and a mascot competition participated by different colleges of three campuses, (main, Catubig, and Lao-ang campuses), Graduate School, Laboratory Elementary and High School which was started at 7:30 in the morning around the UEP Campus.
On culminating day (June 20, 2014), activities were started with diana around the campus at around 4:30 in the morning. A Thanksgiving Mass at 7:00 am at Our Lady of the Miraculous Medal Chapel, presided by Very Rev. Msgr. Walter A. Cerbito, vicar general of Diocese of Catarman and university chaplain. At 9:00 am a wreath laying ceremony was conducted at the Congressman Eladio T. Balite Monument inside the UEP Campus. The anniversary program was held at the UEP Gym started with the welcome remarks made by Dr. Mindanilla Broto, vice president for external affairs. Faculty union president Dr. Rem Laodeno also gave his message, with Sixto Espena, president of UEP Alumni Association, Benjielyn de Guzman, president of Federation of Student Council, and Eduardo Ocana, president of Non-Teaching Staff Council, delivering their respective speeches.
In his anniversary message, UEP president Atty. Mar P. De Asis gave thanks his university officials, employees and faculty members and urged them likewise to work hard to preserve the legacy of the university. "96 years ago, the seed was planted to give rise of the plant of what is known today the University of Eastern Philippines. Our predecessors nurture this seed in order for this seed to grow and bear fruit and truly on these 96 years we visibly see accomplishment and feel it," he said.
"We honored 13 faculty members and employees. You will be part of this institution and your name will be long remembered. For 96 years from the time originally this institution known as Catarman Farm School, to Samar Institute of Technology in 1957 and subsequently in 1964 to University of Eastern Philippines. So much sacrifices, experienced by the officials, employees and faculty members, lives were offered, some died by violence, some by ailments and sickness as a consequence of working hard to accomplished the goal of this institutions. Some officials and employees are unable to retired to see the dawn of success because others use force to prevent them from fulfilling the goal in making possible that this institution will be able to accomplish and succeed. But truly today on this 96 founding anniversary we should pay tribute to faculty members, to employees and officials who nurture the seed so that the next generation we be able to avail themselves of the benefits of education," de Asis said.
He also urged the other officials, employees and faculty members to preserve the legacy of the university as an institution for education. "It is simple, just perform your job, teach well, attend to your classes, and don't be absent. I am proud that I am part of this institution. And for 96 years I tell you, my judgment is that, this university has contributed its maximum contribution to the business of nation building." De Asis, a native of Catubig, also of Northern Samar, then 48 years old, took his oath of office as university president on June 15, 2007, making him the fifth UEP president. A doctor of Philosophy in Educational Management, he is the second UEP alumnus to occupy the university's highest position. De Asis brings to the post his sterling achievement as dean of the College of Law for fourteen years as well as his 13 years experience with the Development Bank of the Philippines, his financial prudence, and his being a lawyer. With his natural ability to lead, he revolutionized UEP's management, and he was able to lead the university to its desired direction.
The UEP is nestled three kilometers away from Catarman, the capital town of the province on a reservation of all of 419 hectares. It is blessed with verdant plains, forested mountains, fertile groves, and shores swash by the blue Pacific. Founded in 1918 as the Catarman Farm School, it gave its pioneering class of 42 pupils practical, secondary level agriculture training. Over the years, its name underwent changes corollary to the changes in its funding schemes. Thus, under the Bureau of Public School it became: Catarman Agricultural School (Municipal-Provincial, 1919) Catarman Agricultural High School (Insular-Provincial, circa 1930), and Catarman National Agricultural High School (National, 1951) As a chartered state institution, it became the Samar Institute of Technology (Chartered State College, 1956) and University of Eastern Philippines (Chartered State University, 1964)
Samar governor Clodualdo Lucero in 1918 proposed and got the approval of the provincial board to open the Catarman Farm School (CFS). Assemblyman Pedro Mendiola of Catarman raised the CFS status to insular-provincial, while Agripino Escareal of Bobon changed into nationally-funded school. Congressman Balite authored the bill that became Republic Act 1434 converting CNAHS into the Samar Institute of Technology (SIT) on June 14, 1956. Eight years later, Balite again filed a bill that became Republic Act No. 4126 which elevated SIT the UEP to its current status. UEP has a student population of 11,064 coming from the different parts of Samar, Leyte and the nearby towns of Bicol and Masbate. (TITO TEPACE)