TACLOBAN CITY – A tourism loop in Samar province was unveiled by a travel and tour agency from Basey town.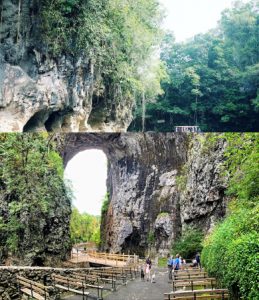 The tourism loop features some of the best attractions and sites that the municipality can offer to tourists and guests who will avail of the packages they prepared.
The Travelink Travel and Tours, a newly established travel agency, offers three sites and attractions in the Basey.
These are the Miss Universe Philippines package or Loop 1 which features areas that were visited by the MUPh 2023 candidates when they visited the municipality in May this year.
This package includes a tour in Sohoton Cave and Natural Bridge Park, Saob Cave where women villagers weave the famous "banig", Bungang Sakit Well, Busacada Church, and the century-old St. Michael Church, souvenir shops, and the iconic San Juanico Bridge.
In Loop 2, the tour package offers a visit to the Golden River cruise, Bungan Sakit Well, Balantak Falls, Busacada Church, and the century-old St Michael Church, and San Juanico Bridge.
For the Loop 3, it offers the Pacific Island package which includes a tour to the Mahaba islet or sandbar, Marabut Rock Formations, Busacada Church, the St. Michael Church, and San Juanico Bridge.
Loop 1 and 2 cost P1,985 and P2,100 respectively for a minimum of 10 persons. The price for the third loop is still being finalized by the agency.
The payment is inclusive of food, transportation, entrance, environmental fee, guide, and travel insurance.
Owner Darlene Wong said that all packages are designed for a one-day tour and all guests will be treated with a VIP treatment.
Wong added that this is only an initial offering of their company as they are also planning to develop an additional loop focusing on and highlighting tourist destinations and sites in other provinces.
Those who want to avail the packages they offer may visit and contact them at their Facebook account at Travelink Travel and Tour.
(ROEL T.AMAZONA)