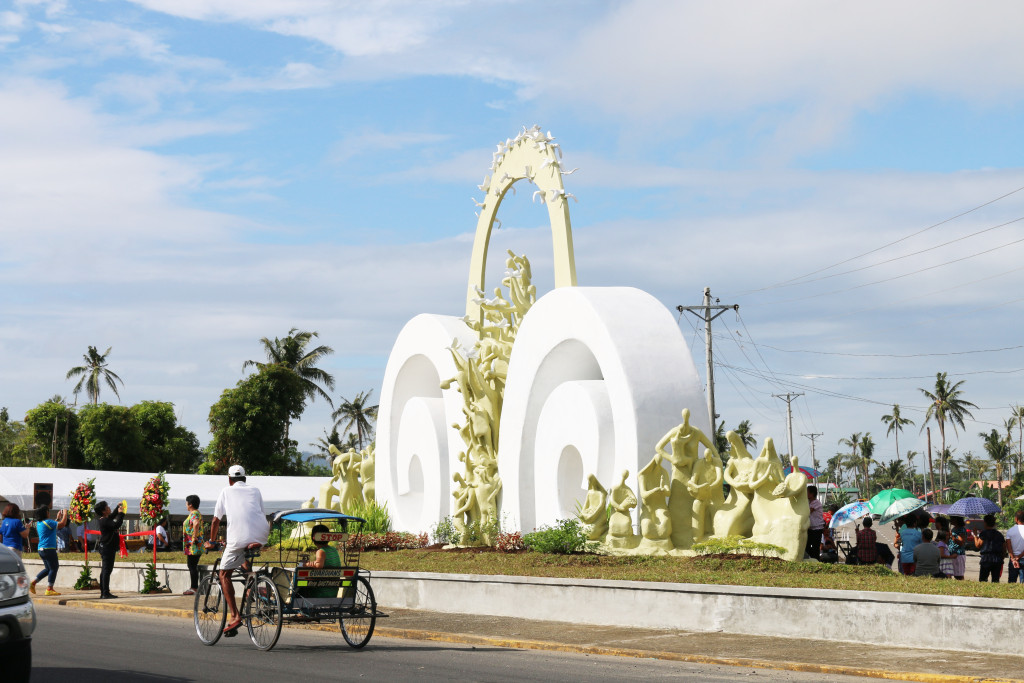 TANAUAN, Leyte- Relatives of the 1,384 people who perished when Supertyphoon "Yolanda" smashed this town more than a year ago will now have a better place where they could offer their prayers and remember them as well. The once mass grave located at the "rotunda" of Barangay Calogcog, was unveiled and blessed on March 31 converting it into a "Yolanda" monument dubbed by its town mayor, Pelagio Tecson, Jr., as "hope of surge monument." At the said Yolanda monument, more than 200 people were said to have been buried. The rest of the confirmed 1,384 people from this town were buried in a separate mass grave located at the town proper. For Joan Alamo, 16 and sister Jonalyn, 15, they are "happy" that the mass grave where their parents and an elder sister were among those buried have now a "beautiful resting place." "Before, this was just a place where we have buried our parents and our elder sister. Nothing but grasses. Now, there is a landscape and a monument giving them honor," Joan said. Joan's parents, Jose, 57 and Lorna, 50 and sister Josephine, 26, died inside their house in Calogcog when it was hit by a storm surge generated by Yolanda on November 8, 2013.
The sisters, together with an elder sister, Jocelyn, now live with an aunt also in the same village more than a kilometer away from the town center.
The Yolanda monument, covering more than 60 feet in width, consists of statues in human forms made of cements. In the words of its Rey Mudjahid "Kablai" Milllan, who was commissioned to do the monument, the main structures are two spiral curves measuring 14 feet, the estimated high of the storm surge that pummeled this town. On the left are abstracts of aid workers and volunteers while on the right side, are similar figures depicting the survivors. In the center stood a mass of figures that are building and holding each other, releasing a flock of birds to the sky, topped with a rainbow and more birds. Names of the 1,384 people were engraved in a glass panel mounted in an artificial water falls. The Yolanda monument was started to be constructed last September but due to bad weather, its construction was hampered and just finished this month. Mayor Tecson said that the construction of the said monument was made possible through the financial assistance of Smart Telecommunications and the Granix Distributions, Inc. of the Procter and Gamble.
Maria Jean Paredes, Smart's vice president for Visayas and Mindanao, said that the monument will not only serve those who perished during the onslaught of Yolanda but as a symbol on how the people of Tanauan rise after the massive tragedy. Mayor Tecson seconded the observation of Paredes saying that the monument, he fondly dubbed as "surge of hope" will serve as a symbol of renewed hope for the people of Tanauan. "This is so meaningful for all of us. This symbolizes the strength of the people of Tanauan and the bayanihan of different organizations that come in our way," Tecson said. Village chair Julian Modesto expressed his gratitude to those responsible in the construction of the monument. "This will not only serve as the final resting place of my people who died during Yolanda's wrath but will also become a very relevant tourist spot," Modesto said. He said that majority of the more than 200 people buried in the monument were from Calogcog. Some were residents from nearby town of Santa Cruz. (JOEY A. GABIETA)