Through the efforts of Rep. Libanan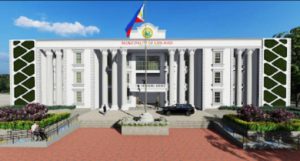 TACLOBAN CITY – The Department of Public Works and Highways (DPWH) in Eastern Samar will be constructing two new municipal buildings that will provide better services to the people.
On August 27, the groundbreaking ceremony was held for the construction of a four-story municipal building in Taft and a three-story municipal building in Can-avid.
The new municipal hall of Taft will be built on 3,360 square meters of donated land.
Both have an initial funding of P30 million with the construction to start within this month.
The project is expected to be finished in May of next year.
Meanwhile, funding for the construction of the new municipal building of Can-avid will reach P140 million, bigger compared to the municipality of Taft because of its location which is larger.
The target completion of the same project is in 1,000 days.
Funding for both projects are from the General Appropriations Act (GAA) of 2023.
Taft Mayor Gina Ty and Can-avid Mayor Vilma Germino are grateful to the House Minority Leader and 4Ps party-list Marcelino Libanan for his efforts to fund these projects.
"This is a realization of our long-time dream to have a new municipal building after 55 years. This municipal building is a symbol of our service for our people. Thank you, congressman Libanan for funding this project," Mayor Ty said.
For her part, Mayor Germino said that their municipal building is so old that they need a new one. She also informed that the old one will be converted into a legislative building when the new municipal building is finished.
Rep. Libanan, who is also the minority floor leader at the House of Representatives, made sure to fund these projects until their completion.
For the year 2024, the solon informed that P70 million is already in place for funding of the multi-faced projects.
(LIZBETH ANN A. ABELLA)