Part of the drill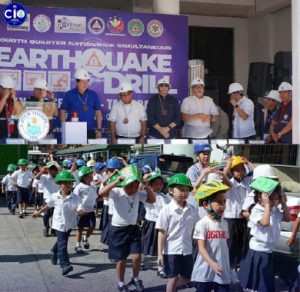 TACLOBAN CITY – The scenario for the 4th quarter National Earthquake Drill: a 7-magnitude earthquake hit the city and other parts of the country, triggering a tsunami warning issued by the Philippine Institute of Volcanology and Seismology (Phivolcs).
City Mayor Alfred Romualdez and Department of Science and Technology Secretary Renato Solidum, together with Office of Civil Defense Regional Director Lord Byron Torrecarion, jointly pushed a button to signal the start of the earthquake drill held at the grounds of the City Hall.
Dock, cover, and hold were observed after the siren alarm was heard.
In Tacloban, the 'earthquake' has resulted in the toppling of several buildings, electrical posts, trees, cell sites, walls, houses and establishments, and roads and bridges.
A tsunami alarm was raised due to the strong quake.
An advisory was issued that a 5-meter tsunami may hit the city due to the earthquake resulting in raising an evacuation procedure for residents living along coastal areas to higher grounds.
City government employees had also evacuated to safer grounds along with school children at Rizal Central School, which faces Cancabato Bay, were evacuated to the City Hall grounds which is located on the top of a hill.
After the earthshaking and tsunami hit the city, a command post was established for proper coordination, and a search and rescue operation was commenced by personnel from the Bureau of Fire Protection, City Disaster Risk Reduction and Management Office, and the Philippine National Police.
While the drill was being conducted, heavy rain occurred which caused the participants to get wet but this did not stop the activity.
In his closing message after the earthquake drill, Sec. Solidum said that the drill incident in Tacloban was one of the best scenarios they saw in an earthquake drill as he emphasized the importance of preparedness before a calamity and disaster hit by ensuring that buildings, houses, and other structures can withstand strong earthquakes.
"It is really important that buildings will follow (the building) code and must be inspected regularly," Solidum said, adding that the local government must make sure that people are out of the danger zone before the arrival of tsunami waves.
"It is really important that we prepare for it. It is important for people living in danger to identify safe zones and that they need to identify it quickly so that can be saved," Solidum said.
He added that the agency had several technologies, devices, instruments, and applications that could help local government and the community to respond better when calamities and disaster happens.
These include the "How Safe Is My House" Mobile App, FaultFinder mobile app to know where fault lines are located, HazardHunterPH for one-stop shop hazard assessment, and the PlanSmart, which is an app that will empower local government units to formulate their Rehabilitation and Recovery Plan (RRP) faster and improve decision-making and planning for pre- and post-disaster events.
OCD Director Torrecarion, when asked for this assessment, said that they saw several lapses in the earthquake drill which include response time and the use of new technologies for better communication.
"All these skills that we have are perishable skills, so if we don't do regular training then we are bound to fail, but so far as to response time we saw that we still need to improve it a little more," Torrecarion shares.
Torrecarion added that the drill is very timely since it was held a day after the region commemorated the 10th year of super typhoon Yolanda's devastation on Wednesday (Nov. 8). (ROEL T. AMAZONA)