TACLOBAN CITY– In line with the observance of the National Fire Prevention Month, the Tacloban City Fire Station (TCFS) welcomed schools from a public school in the city as part of its week-long community relation activity that ended on March 17.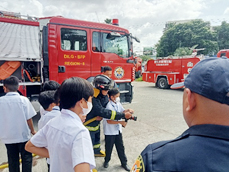 The activity was aimed to teach students from selected elementary schools the basic skills and knowledge on fire prevention, SFO1 Marites de la Rosa, TCFS community relations unit head, said.
"During the community relation week activity, we have an open house, fire exhibit, and poster-making contest among our students in relation to the fire prevention month," she said.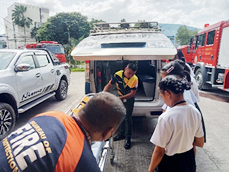 The activity also included a tour visit inside the TCFS facilities, an exhibit on firefighting and rescue equipment, tools, and gears along with a lecture and demonstration on fire prevention as well as basic life support, de la Rosa further said.
Michael Angelo Palacio, teacher of the Kapangian Elementary School, said that they were happy to be given the opportunity to visit the city fire office as it provided an opportunity for his students to learn fire prevention and what to do in case of a fire incident.
"The visit provided the students the knowledge on how to be safe in case of a fire incident, especially so that our school is located in a fire hazard zone," Palacio, who is also t school-based disaster risk reduction officer of Kapangian Elementary School, said.
(MARCO JEMSBOY ARCENA, LNU Intern)