TACLOBAN CITY-Paytaca, a bitcoin cash-focused financial technology (FinTech) start-up based here has secured another equity-free pre-seed funding worth P2.5 million this February 2023, following their "successful pre-seed funding" of P7.5 million in May 2022.
"We are flattered that the Bitcoin Cash (BCH) community has once again supported us," said Aaron JP Almadro, Paytaca's marketing director.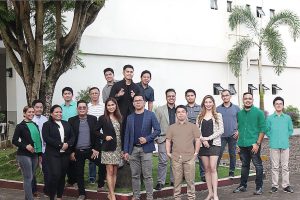 "The campaign was supposed to last 30 days, but it was funded in only five days! We have a lot of activities in store, especially onboarding more merchants where Paytaca users can use their BCH," Almadro added.
The new funding will help the company in its ongoing marketing efforts and merchant adoption.
"We have a long list of updates to the wallet. Some are already being implemented and will be included in the next releases," said Joemar Taganna, president and chief executive officer.
In mid-2018, Paytaca started as a fiat wallet app before it shifted to a cryptocurrency wallet in 2019 "due to steep capitalization and licensing requirements."
The company's research into cryptocurrencies led them to Bitcoin Cash, according to Almadro.
"Since then, we have been actively building to make it accessible and useful in real-world commerce," he added.
In July 2021, the company released the prototype of its wallet app after several delays due to the pandemic.
Over 10 releases later, the Paytaca wallet became "a powerful, user-friendly open-source Bitcoin Cash wallet app."
It is already used in countries like US, UK, Australia, Argentina, Nigeria, Indonesia, Germany, and France.
"Paytaca's goal is to champion a bottom-up model of BCH adoption that has the potential to scale and become self-sustaining," Almadro said.
"Paytaca is dedicated to making Bitcoin Cash accessible and useful in real-world commerce. The company's recent funding, along with the successful pre-seed funding in May 2022, will help to further the company's efforts in this direction," he added.
Being at the forefront of cryptocurrency adoption efforts in Eastern Visayas, the company will soon expand to other parts of the Philippines.
(RONALD O. REYES)