GOVERNMENT CENTER, PALO, Leyte– The Department of Public Works and Highways(DPWH) in the region bares its priority projects for 2024, having a budget of P50 billion.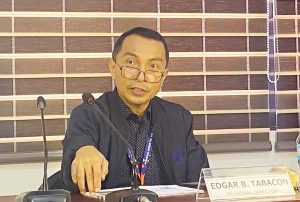 Engr. Edgar Tabacon, DPWH regional director, said that part of their budget includes P25 billion to be distributed to all district engineering offices.
"These are the usual projects of the department which include roads, bridges, buildings, and flood control projects," he said on Friday (Oct.27) in a press conference.
Tabacon said that among the priority projects for next fiscal year include the Tacloban city by-pass road extension which includes the construction of a six-lane roadway with a total length of 33 kilometers, the construction of a drainage structure, a road slope protection structure, and two permanent bridges.
The project is expected to decongest traffic along Tacloban –Babatngon road going to Tacloban city proper shortening the travel time from 1 and a half hour to 45 minutes once completed.
The project has an allocation of P 21.6 billion.
Another priority project is the construction of a causeway, also in Tacloban, that is seen to complement with the upgrading works at the Daniel Z. Romualdez (DZR) Airport. It has a budget of P3.6 billion with P150 million obligated funds.
The Tacloban City Causeway is approximately 2.566-kilometer with 4-lane, road embankment with separated bike lanes, sidewalks, and wave deflectors on both sides.
The P4.5 billion project, which also includes the construction of a 180m length of bridge, is seen to reduce travel time from the city proper to the airport from approximately 45 minutes to 10 minutes and protect the life and property of the residents/constituents in the area from erosive tidal actions brought by weather disturbances, which is a natural occurrence in this region.
Another big-ticket project of the DPWH in the region for next year includes the Tacloban-Palo diversion road with a budget allocation of P3.13 billion.
The 3.2 kms project will start in San Jose district in Tacloban and is to end in Brgy. Campetic, Palo. The project includes the construction of a four-lane road, flood control and drainage system. It will also have bike lanes, sidewalk and service road, installation of solar street lights and road safety devices.
Tabacon said that the project will not only help decongest traffic but will also help mitigate flooding incidents in areas covered by it.
The DPWH regional official also added that the tide embankment project will still be continued and in fact, has been extended to areas that were not originally covered.
ThisP12.14 billion project has a total of 38,126.00 meters which covers the construction of 22,120 meters flood mitigation structure and 16,006 meters backwater dike structure. (LIZBETH ANN A. ABELLA)