ORMOC CITY– The Community Environment and Natural Resources Office (CENRO) based in Palo, Leyte filed on Feb. 6 charges of violation of PD 705 or Forestry Reform Code against seven suspects.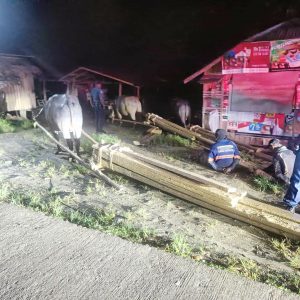 The suspects, two were arrested while the rest are either still at-large or whose names have yet to be known, were caught transporting illegally cut lumbers at about 11:30 am on Feb. 3 in Barangay Libtong, San Miguel, Leyte.
San Miguel chief of police, Major Ronald Espina, identified the arrested suspects as Joseph Balais, 37, with live-in partner, laborer, and John Patrick Balais, 19, a student all residents of Brgy. Libtong.
The suspect who is still at-large was identified as Edward Bariata of Brgy. Bahay, San Miguel.
Major Espina, in an interview, disclosed that their station got information coming from the barangay intelligence network (BIN) members that there was on-going transportation of illegal lumbers at the said place.
He said that they immediately responded and proceeded to the reported place to ascertain the report and upon arrival in the area, they caught the arrested violators illegally transporting good lumbers without necessary documents using seven carabaos with a wooden yoke while loaded with different sizes of good lumbers of different dimensions each.
Confiscated from the suspects were 23 pcs 2x4x14, 24 pcs of 2x3x12, 2x3x8 of Yakal wood totaling 538 board feet worth P53,000 and seven pieces of wood carts used to transport the illegal lumber measuring 56 board feet worth P2,800.
A total of 594 board feet of combined lumbers were turned over to the CENRO in Palo. (ROBERT DEJON)