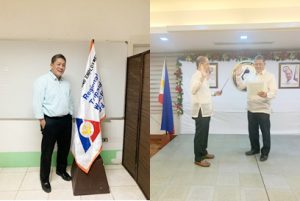 The vacant slot for the employers' representative in the Regional Tripartite Wages and Productivity Board VIII of the Department of Labor and Employment, Regional Office VIII has been filled-up recently after President Ferdinand R. Marcos Jr. appointed Mr. Edwin Chu Mañas as a Board Member.
Mr. Mañas took his oath as the second employer representative of the Regional Tripartite Wages and Productivity Board VIII before Secretary Bienvenido E. Laguesma on December 1, 2022 at the DOLE Central Office, Intramuros, Manila City.
According to Republic Act No. 6727 otherwise known as Wage Rationalization Act, each Regional Board shall be composed of the Regional Director of the Department of Labor and Employment as chairman, the Regional Directors of the National Economic and Development Authority and Department of Trade and Industry as vice-chairmen and two (2) members each from workers and employers sectors who shall be appointed by the President of the Philippines, upon recommendation of the Secretary of Labor and Employment, to be made on the basis of the list of nominees submitted by the workers and employers sectors, respectively, and who shall serve for a term of five (5) years.
The appointment of Mr. Mañas completes the membership of RTWPB VIII, with two representatives for both the employers and workers sector. He is a member of Filipino-Chinese Chamber of Commerce Inc. of Tacloban City, Tacloban Executive Lion's Club, Central Tacloban Filipino Chinese Volunteers Fire Brigade Inc., and Philippine Red Cross. He served as a member of the Board of Directors of Philippine Red Cross Tacloban in 2012.
Mr. Mañas is also the owner and manager of Stephanie's Smokehaus restaurant in Tacloban City. (PR)