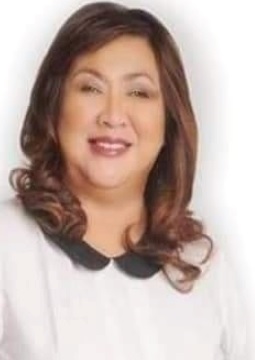 Despite Sandiganbayan decision
TACLOBAN CITY- Samar Rep. Milagrosa Tan was elected as governor of the province, defeating a former military intelligence officer.
Tan received 211,764 votes against her rival, Emil Zosa.
March 1 of this year, the Fourth Division of Sandiganbayan found Tan guilty for graft involving P16.1 million in the procurement of emergency supplies back in 2001 when she was the governor of the province.
Tan immediately posted bail and sought for motion for reconsideration.
Zosa, who was once the head of the intelligence and operations division of the Intelligence Service of the Armed Forces of the Philippines, only managed to obtain 204,118 votes.
In his Facebook post, Zosa conceded defeat to Tan who is returning as governor of the province as she is to end her nine-year in office as a congresswoman representing Samar's second district.
The governor-elect is to switch position with her daughter, Gov. Sharee Ann Tan, who also won on her congressional race.
The younger Tan received a total votes of 124,459 or higher by 27,223 votes against her rival, Christopher Bolastig, once connected with the Bureau of Customs.
Bolastig received 97,236 votes.
The defeated congressional aspirant also accepted his loss to the outgoing governor.
"It was a good, clean fight for us. We reach this far because of your support and I will forever be grateful," he said.
"Let's continue providing services that the province of Samar deserves. Congratulation to Ann Tan," Bolastig added.
Congresswoman-elect Tan, for her part, expressed her gratitude to her erstwhile political rival for conceding his defeat.
"It was indeed a respectable fight. I salute you for being such a true gentleman. Hoping to align our vision someday soon," she said.
Elected as vice governor of the province was Reynolds Michael Tan, son of the elected- Gov. Tan, who amassed 214,511 votes.
The vice governor-elect defeated Jesus Redaja, a former vice governor who only received 167,566 votes.
Meantime, Rep. Edgar Mary Sarmiento was reelected as congressional representative for Samar's first district.
Sarmiento, who secured his second term, won by 11,018 votes against outgoing Vice Gov. Stephen James Tan.
Sarmiento had a total votes of 104,904 votes against Tan's 93,886 votes.
The reelected solon expressed his gratitude to the people of the first district for electing him back into office.
"It is an honor and privilege to once again serve as our representative in the upcoming 18th Congress. The fresh mandate you have entrusted me strengthens my resolve to serve the first district to the best of my abilities. I give you my commitment that I will continue to work hard in the House of Representatives to make your voices heard," Sarmiento said in his message he posted on his Facebook account.
All were proclaimed by the members of the Provincial Board of Canvassers on May 16.
BY: JOEY A. GABIETA, ROEL AMAZONA