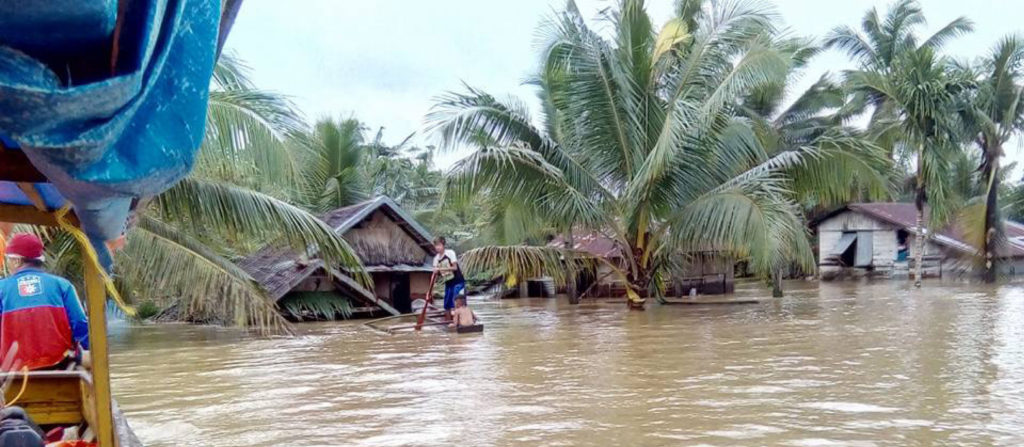 By: Joey Gabieta
Over 72,000 families affected with 2 casualties 
TACLOBAN CITY- Flooding incidents spawned by the torrential rains have displaced more than 72,000 families in the three provinces of Samar Island since Saturday.
While the province of Leyte was also hit by heavy rains for days now, the provincial disaster risk reduction management office has yet to monitor flooding incident in any part of the province.
Water levels experienced in these areas hit by flooding incidents reached to four to six meters even houses with two stories were inundated, officials said.
Reports reaching the regional Office of Civil Defense (OCD) based in Tacloban City, said that flooding incidents have displaced 6,650 families in Eastern Samar or about 29,166 individuals; 2,687 families or 11,438 persons in Samar and 7,333 families consisting of 32,358 individuals in Northern Samar.
The incessant rains have also resulted to several cases of landslides in different areas of the three Samar provinces affecting the flow of traffic as roads in these places were rendered not passable.
Levi Nicart, disaster risk reduction management officer for Eastern Samar, said that the towns of Maslog, Oras, Jipapad, Can-avid, Dolores, Taft and Sulat were among the hard-hit areas due to flooding experienced largely in Eastern Visayas since Saturday.
Nicart, in a phone interview, said that they are still consolidating reports from these areas which, in turn, could be used by the provincial government as basis for the declaration of state of calamity for the entire province.
"But on Saturday and Sunday, the municipal governments of Sulat and Taft have already declared state of calamities due to the damages they sustained due to the flooding," he said.
Taft Mayor Marianne Libanan said that the town council, upon her request, placed the entire town under state of calamity on Monday (December 19) after 11 out of its 24 barangays experienced much flooding which she said also caused its crops and bridges and roads were damaged.
Among the roads that sustained damage was the one constructed by the MCC (Millennium Challenge Corp.)an aid agency of the United States) located along Buray-Taft section.
Libanan said that 1,694 families were displaced with more than P50 million in damages initially reported by the municipal disaster risk reduction management council.
Engr. Manuel Catuday, municipal disaster risk reduction management officer of Dolores, meantime, said that 28 out of its 46 barangays experienced flooding.
"Water levels reached up to six meters in height even houses with second story were also flooded," Catuday said.
He said one man from Barangay San Isidro, Primitivo Lazarra, 60, was reported killed due to drowning on Saturday.
Another man, Elpedio Zacate, husband of the town agriculture officer, Lucia Zacate, was also confirmed to have died due to drowning from Barangay Manatag, Taft, Eastern Samar.
Meantime, Ryan Oledan,30,Rommel Omlang,28 and Renato Pagas,53, all fishermen from Barangay 4, Taft, were reported missing since December 15 after they went out to the sea to fish, Nicart said.
Catuday said that the flooding displaced 3,997 families who are either fled to areas located in higher areas or chose to remain at their houses, especially those who have second floors.
"We have placed an estimate damage of more than P50 million due to flooding, and most of them are our crops. Around 80 percent to 90 percent of our crops were damaged due to the flooding," he said.
Aileen Franzuela Diaz, provincial head of the Philippine Information Agency based in Catarman, said the massive flooding experienced by the province have also displaced 9,284 families or 1,951 more families from the OCD-8 report.
The towns of Catubig and Las Navas, both low-lying areas, were the most hard-hit due to flooding incident.
But power supply in the province was not affected by the flooding, Diaz added.
Meantime, Arvin Monge, Leyte disaster risk reduction management officer, said that while the province is also experiencing heavy rains since Saturday, no flooding incidents have been monitored.
"But I have asked all our municipal disaster risk reduction management officers to monitor their situations especially those located in low-lying areas and their watersheds," Monge said.