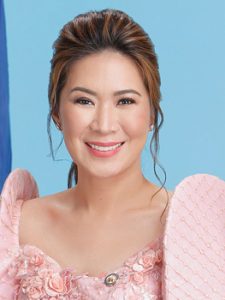 TACLOBAN CITY – Samar Governor Sharee Ann Tan took her oath as the chairperson of the Samar Provincial Police Office (SPPO) Provincial Advisory Group for Transformation and Development (PAGTD), which serves as an advisory group to the local police force.
"I am deeply honored and humbled to have been entrusted with this vital role. Together with the police force and our communities, we will work towards a future where safety, justice, and unity prevail. By combining our efforts and pooling our resources, we can build a resilient society that thrives on mutual respect and cooperation," the governor said in her message before the members of the advisory group.
Tan said that she hopes to work closely with the group in so far as addressing the peace and order concerns across the province.
"I know this group will hasten the programs and projects as far as peace and order is concerned. We will be part of the solution that will sustain the gains of peace. As to our activities, we want something that is dynamic. Let us implement programs that will be felt by the community," she added.
As chairman, Tan envisions a progressive roadmap that encompasses targeted training programs for law enforcement personnel, fostering a culture of continuous learning and improvement.
She also vowed to work closely with community leaders to identify specific areas for development, ensuring that the police force remains attuned to the needs and aspirations of the citizens they protect.
Meantime, both Representatives Stephen James Tan and Reynolds Michael Tan were also swore in as members of the advisory group on July 28.
(ROEL T. AMAZONA/LIZBETH ANN A.ABELLA)