Sinos on board of vessel that drifted in E.Samar waters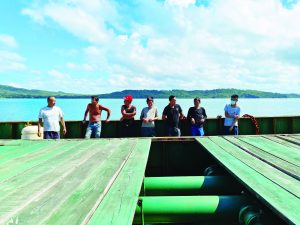 TACLOBAN CITY– The seven Chinese nationals who were on board of a vessel that drifted off the waters in Eastern Samar on Jan.26 of this year expressed their happiness as they could now return to their country, after more than two months now in staying in the vessel.
On Friday (March 31), they were turned over to the personnel of the Bureau of Immigration and Deportation (BID) by the Coast Guard, though they were placed in handcuffs as part of the 'standard operating procedure.'
Speaking through an interpreter, the seven Chinese said that they are glad to see their families again.
"They miss their families. They are excited to see their families. They have been here for more than two months," the interpreter, who asked not to be named, said.
The Chinese, Chen Zhe Nei, He Cheng Sun, Tong Yat Sun, Lei Deng Zai, Mak Pak Lam, Liu Jian Ping, and Shi Nun Yu, have been staying inside the vessel for 64 days.
Except for Sun and Lam, who are from Hong Kong, all are from Guangdong, China.
Their vessel, Kai Da 899, was rescued by Coast Guard after it was reported to have drifted off the waters of Suluan Island, off Guiuan town in Eastern Samar on Jan.26 of this year after its rudder developed a problem.
The vessel, later described to be a supply vessel, has since been docked four nautical miles from the port of Tacloban. It is now yet known if the vessel will be towed out of the city's water.
The seven nationals after they disembarked from the vessel, underwent medical check-ups and rapid tests against coronavirus (COVID-19) by health personnel from the City Health Office.
They were later boarded in two passenger vans on their way to Ormoc City en route to Cebu City.
Coast Guard and BID personnel served as security to the foreigners who were earlier described to be 'fugitives' by the Chinese embassy.
The Chinese embassy has earlier requested for the seven to be repatriated to China.
The rescued Chinese also sought assistance from President Ferdinand Marcos, Jr. to allow them to return to China where the country has a recurrent territorial dispute over the Western Philippine Sea.
JOEY A. GABIETA