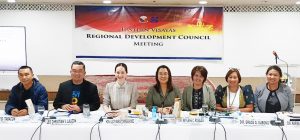 TACLOBAN CITY – The Regional Development Council (RDC) headed by Mayor Lucy Torres-Gomez on Tuesday (March 21) has endorsed a P500 million budget for the feasibility study of a proposed railway project.
The feasibility study will be spearheaded by the Department of Transportation Central Office which will engage various consultants, including foreign groups.
A series of public hearings and consultations will also be done in areas where the project, dubbed as Eastern Visayas Metro Railway, is planned to be implemented.
During the special meeting of the regional council last January 31, the RDC formed a task force composed of various national government agencies and local government units for this mega project.
The body includes the Department of Transportation, legislative district offices, the Department of Public Works and Highways, Land Transportation Franchising Regulatory Board, Department of Environment and Natural Resources, National Economic and Development Authority, six provincial governments, seven cities, and private sector representatives.
Mayor Gomez admitted that the construction of the railway project might take some time because the creation of the masterplan will take years.
During the conduct of the feasibility study, the length of the railway system, where will it start or in what LGU will it be developed first, how much budget will be needed for the entire project, and how long will it take to complete are to be considered.
"The project is ambitious and very expensive, but it will ease transport and experience better mobility. The social and economic impact will be very good. The project has been on the bucket list since 1999 and we hope its time has come," Mayor Gomez said.
(ROEL T. AMAZONA)