NSSDEO, Brgy. Burabud, Laoang, Northern Samar– The DPWH-NSSDEO Quality Assurance Section conducted a t-core test of its completed asphalt road project located at the Pangpang-Palapag-Mapanas-Gamay-Lapinig Road in the Pacific Area.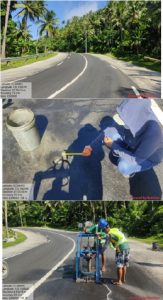 The project with contract ID No. 23II0002 is under contract with ANLE Construction. It has a contract amount of P5,885,417.11 funded under DPWH regular infrastructure program, GAA FY 2023.
The testing was done by drilling a concrete road with the use of t-core machine, to determine its thickness, compact strength and mixture of aggregates, and to ensure the stability and quality of road asphalt pavement project and its resistance to deformation.
The findings indicated that the completed project passed and complied with the standard specifications as provided in the contract documents.
The activity was conducted on April 19, 2023 by the QAS technical team led by Engr. Mikhail Benedik Mondigo, Materials Engineer II, with the assistance of Engr. Ulyssis Pelegrino, Engr. Hannah Esquillo, and Remedios Nitor, Laboratory Technician I.
(MECHU T. ADONGAY, PIO STAFF)