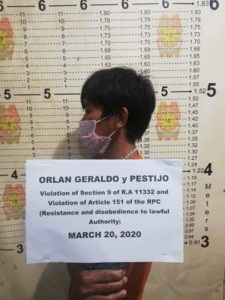 TACLOBAN CITY- Police arrested a 40-year-old male person under monitoring (PUM) for coronavirus disease 2019 (COVID-19) after he allegedly broke the home quarantine guidelines in Gandara, Samar.
The suspect, Orlan Geraldo, a construction worker, was caught roaming around the streets and drinking with his friends at Barangay Catorse De Agosto of the said town at around 5 pm on March 20.
The PUM's "non-cooperation and his total disobedience and resistance to the authorities" has led to his arrest, according to Police Captain Joselito Tabada, the town police chief.
The suspect went home to Gandara to be with his family after President Rodrigo Duterte declared an enhanced community quarantine of the entire Luzon last March 16 due to the rising cases of COVID-19 in the country.
He will be facing charges in violation of Section 9 of Republic Act 11332 or the "Mandatory Reporting of Notifiable Diseases and Health Events of Public Health Concern Act."
Also, he will face penalties and jail term for violating Article 151 of the Revised Penal Code or resistance and disobedience to a person in authority.
The Department of Health (DOH) has strongly advised all PUMs to strictly observe the home quarantine protocol to avoid the spread of COVID-19.
Based on the quarantine guidelines, PUMs should stay home for 14 days; wear mask if in company of other people, and properly dispose used mask; use one's own set of utensils; non-sharing of towels, toothbrush, glass, spoon and fork, etc.; avoid contact with elderly, children or those with underlying medical condition; avoid handshake, kissing or hugging someone; and routinely clean frequently-touched surfaces such as doorknobs, light switches, cellphone, tables, handles and toilet.(RONALD O. REYES)