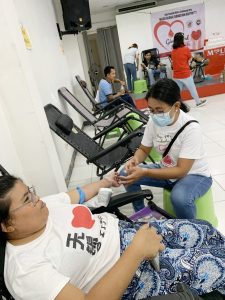 CALBAYOG CITY– People's Outreach Program (POP) partners and blood donors supplied 28 blood units to Calbayog District Hospital (CDH) in its mass blood donation (MBD)-initiated activity bannered, "Donate blood. Save lives" in partnership with MLhuillier Calbayog, Tingog party-list and Calbayog City Blood Bank Team on Saturday (May 27) at MLuillier Magsaysay Branch, this city.
Out of around 50 potential blood donors, 31 of them qualified for blood extraction after undergoing a series of tests but only 28 were successfully collected due to spoilage.
The said blood units were stored at CDH and will be available for CDH patients and patients confined in private hospitals in the city including Adventist Hospital Calbayog Inc. and Saint Camillus Hospital on Tuesday, May 30, upon receipt of the screening result from Eastern Visayas Medical Center in Tacloban City.
Majority of the blood donors were Calbayognons while eight were uniformed personnel from First Samar Provincial Mobile Force Company, 125th Special Action Company of 12th Special Action Battalion, and Calbayog City Police Station; all of the Philippine National Police, with an area of responsibility in this city.
POP Founder Leviresa Getigan stressed that the number of private individuals who are regular and new blood donors of the organization is a clear indication that POP's campaign on the blood services program is effective especially since it is gaining more constant program partners and regular donors.
"Our utter appreciation to MLhuillier Calbayog and TINGOG Party List for being POP's regular MBD program partners and for the provision of venue and tokens, and snacks, respectively, for our blood warriors who courageously and selflessly shared their blood yesterday. Likewise, our heartfelt gratitude to our police officers and their commanders for their unwavering support to POP," Getigan concluded.
POP has scheduled another MBD tentatively scheduled on June 10, 2023, Saturday, with the venue soon to be announced, and is inviting potential donors from Calbayog and other neighboring municipalities.
The organization is an advocate of the Blood Services Program since year 2017 and is strengthening its community relations to encourage more advocates.
(LEVIREZA ATIS GETIGAN)