Rookie cop killed in an NPA-instigated ambush in Samar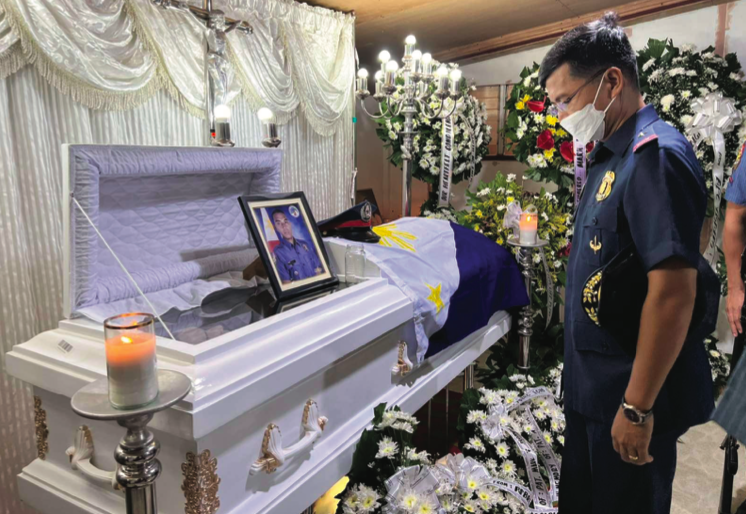 TACLOBAN CITY- The Philippine National Police (PNP) has strongly condemned on the killing of a police operative by the members of the communist New People's Army (NPA) in Samar last Saturday(July 16). The PNP's officer-in-charge, Lt. Gen. Vicente Danao, Jr. has vowed that justice will be served to the family of Patrolman Mark Monge, 28. The rookie cop, who belonged to the Regional Mobile Force Battalion (RMFB), was killed in an encounter with at least 10 rebels in between the villages of San Nicolas of San Jose de Buan town, and Brgy.Mabuhay of Gandara town while his group was having their humanitarian mission.
"We deeply express our condolences to the bereaved family of Patrolman Monge. His dedication to fulfill his duty to serve and protect the country will be remembered. Justice will be served. The perpetrators will be made answer for their criminal actions," the PNP chief said in a statement. Danao also promised to extend all the assistance to the family of Monge whose remains were brought to their residence in Palo town, Leyte. It was learned that President Ferdinand 'Bongbong' Marcos, Jr. has sent a wreath as a way of sending his condolences to the family of Monge. B/Gen. Bernard Banac, the police regional director, has paid his respects to the fallen junior police operative as he also vowed that they would continue to help the government crush the insurgency problem in the region. He described the act of the rebels as 'treacherous' adding that the police personnel were in the area to conduct their humanitarian mission. "We will not stop until those responsible will be held accountable. This communist terrorist group is one of the reasons why people living in remote areas are still languishing in poverty and we will not stop until they are quelled," Banac said in a statement. "We will further intensify our campaign against terrorism," the police regional director added. For the past weeks now, skirmishes between government forces and the communist armed group have engaged in gunfights in the region where insurgency problem remains to be among its major concerns. Last July 5, at least seven soldiers were wounded when they were ambushed by NPA members who used anti-personnel landmines in Mapanas, Northern Samar. Security officers in the region have vowed to quell or at least rendered the insurgents into an insignificant force as they encouraged them to return to the folds of the law and avail the benefits given to rebels who surrender to the government.