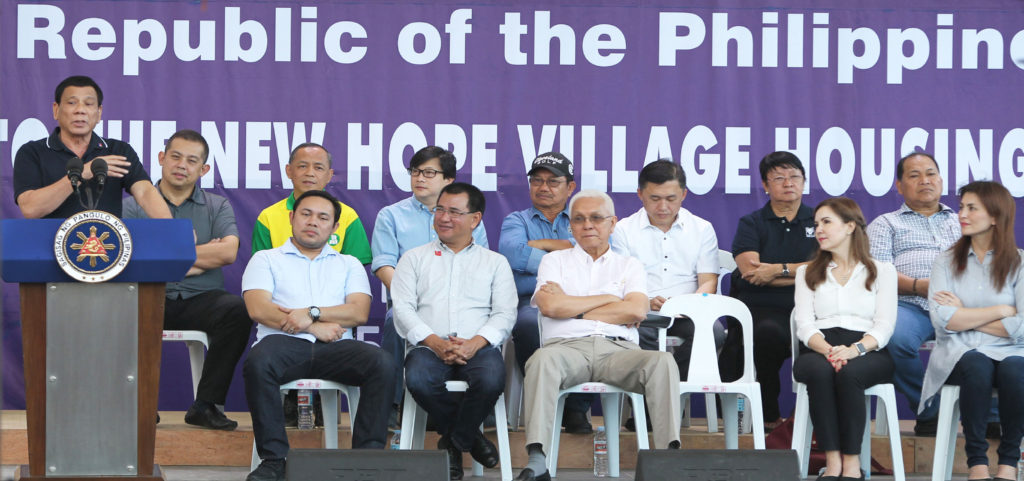 Disappointed due to slow pace of work
TACLOBAN CITY – President Rodrigo Duterte asked Cabinet members to complete post-Yolanda housing projects by March or face the "punishment of crucifixion."
This stern warning was issued by the President as he did not hide his displeasure over the slow pace of work in transferring families who lost their houses due to supertyphoon "Yolanda" to their permanent shelters.
"March, lipat na kayo dito, at magbalik ako. Kung hindi matapos March, maggawa kayo ng limang krus, iyong parang kay Kristo. Ipakarga ko sa kanila at ikot-ikot dito. Pako ko lang," he said, eliciting applause from the crowd, mostly families who received the housing projects.
Mr. Duterte was in Tacloban City last Wednesday(January 25) as he lead in the turnover of 1,100 housing units to families located in seven resettlement sites at the northern part of the city.
The ceremonial turnover was held at the New Hope Village in Barangay Santa Elena, 17 kms away from the city center.
Secretary Leoncio Evasco, who chairs the HUDCC (Housing and Urban Development Coordinating Council), made a presentation on the progress of resettlement program before the President which apparently only irked Mr. Duterte due to its slow pace.
Evasco, using data from the National Housing Authority (NHA) reported that as of Jan. 24, at least 5,617 families have been relocated to their new and permanent houses, three years after Tacloban was pummeled by Yolanda.
This represents around 38 percent of the 14, 433 families that need to be relocated.
During his visit last November 8, coinciding the third anniversary of Yolanda's onslaught, Mr. Duterte also issued an order for concerned government agencies to finish the work by December, 2016.
President Duterte urged concerned officials, including cabinet members to resign if they failed to provide basic needs of relocated families.
These include provisions of electricity, water, livelihood, access road and livable houses for badly-hit families.
"I was not really pleased because after three years, that was the only accomplishment of the government," he told the crowd. "I was supposed to return here last December, but I was not able to make it because I was very busy. I finally decided to check today to see how they fair on this job."
NHA Regional Director Rizalde Mediavillo vowed to meet the deadline when reached for comments.
"We will do our best efforts. If we have to work overtime, we have to do it."
Aside from Evasco, other Cabinet members who joined the President on his Wednesday visit were Secretaries Ramon Lopez of the Department of Trade and Industry; Jody Taguiwalo of the Department of Social Welfare and Development and Mark Villar of the Department of Public Works and Highways.
They were joined by Leyte Governor Leopoldo Dominico Petilla, Rep. Yedda Marie Romualdez and Tacloban City Mayor Cristina Romualdez.
BY: SARWELL Q. MENIANO